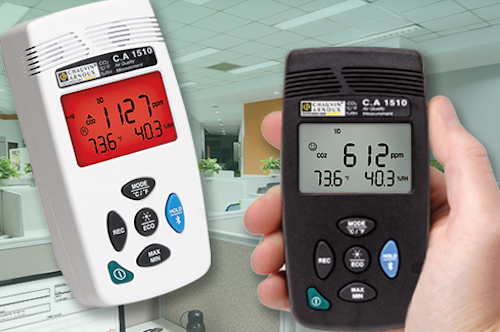 Test equipment: AEMC's Model C.A 1510 allows you to monitor CO2, temperature and humidity for a healthy environment. Used in government offices, transportation, workplaces, private residences, educational institutions and more.
• Simultaneously monitors and displays CO2, temperature and humidity
• Stores up to 1 million measurements
• Case design facilitates both wall mount and stand-alone use
• Easy-to-read comfort indicators based on CO2, Temperature and Humidity
• Complies with the latest air quality standards
• Display can be turned off to conserve battery power
• Quick and simple data download via USB cable or wireless Bluetooth
• Supplied with AQR (Air Quality Report) software for data processing and report generation
• The display blinks with red backlighting when any measured parameter exceeds the user-selected threshold
• An Android™ App is available for download on Google play
For more information about AEMC or other products, click here to go to Utility Products' Buyers Guide.