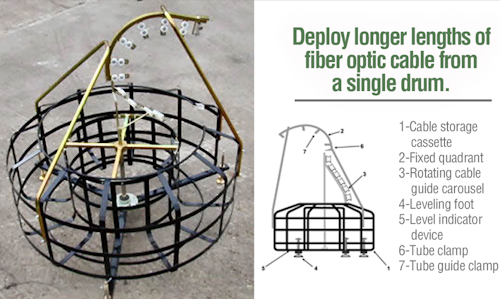 Fiber optic cable: General Machine Products Company Inc. (GMP) introduces both the Micro and Mini Microfiber Cable Fleeters. Microfiber Cable Fleeters are designed to provide a smooth and simple system that ensures cable protection from pedestrians or vehicles, and prevents contamination from mud, soil or dust.
Microfiber Cable Fleeters replace the manual method of "figure eighting" cable at deployment midpoints - saving time and money.
Microfiber Cable Fleeters are also designed to work in conjunction with the GMP Breeze and Air Stream Cable Blowing Machine brands.
The Micro Fleeter (P/N 89002) can accommodate 5 - 8.5 mm (0.19 - 0.33 in.) microfiber cable. Maximum cable handling: 2,000 M x 8.5 mm (6,500 ft. x 0.33 in.).
The Mini Fleeter (P/N 89298) can accommodate 5 - 11 mm (0.19 - 0.43 in.) microfiber cable.
More information on GMP's Micro and Mini Microfiber Cable Fleeters can be found by visiting the company's website http://gmptools.com/nf/89002.htm, or by contacting General Machine Products Company at 215-357-5500; info@GMPtools.com.
About General Machine Products Company
For 80 years, the General Machine Products Company is recognized as a premier global supplier of a wide range of products for the telecommunications, power utility and cable television industries, and the contractors who serve them. Product applications include the placement of fiber optic, copper conductor, and coaxial cable both aerially and underground.
GMP aerial cable lashing machines, Adams® continuous duty winches and fiber optic cable pullers are accepted as the industry standard. The complete line of GMP's 1,100+ products also includes cable reels and aerial blocks, cable cutters, unique RJ plug pressing tools, fiber optic cable blowing equipment, and other specially-designed tools for the data, telecommunications, and power utility markets.
Our facilities include a 100,000-square-foot manufacturing plant located in Trevose, PA, in suburban Philadelphia, and in Rutland, England (its CBS Products, Ltd. unit). Both facilities are equipped with a full complement of technologically advanced machine tools manned by a well- trained team of craftspeople.
For more information about GMP or other products, click here to go to Utility Products' Buyers Guide.