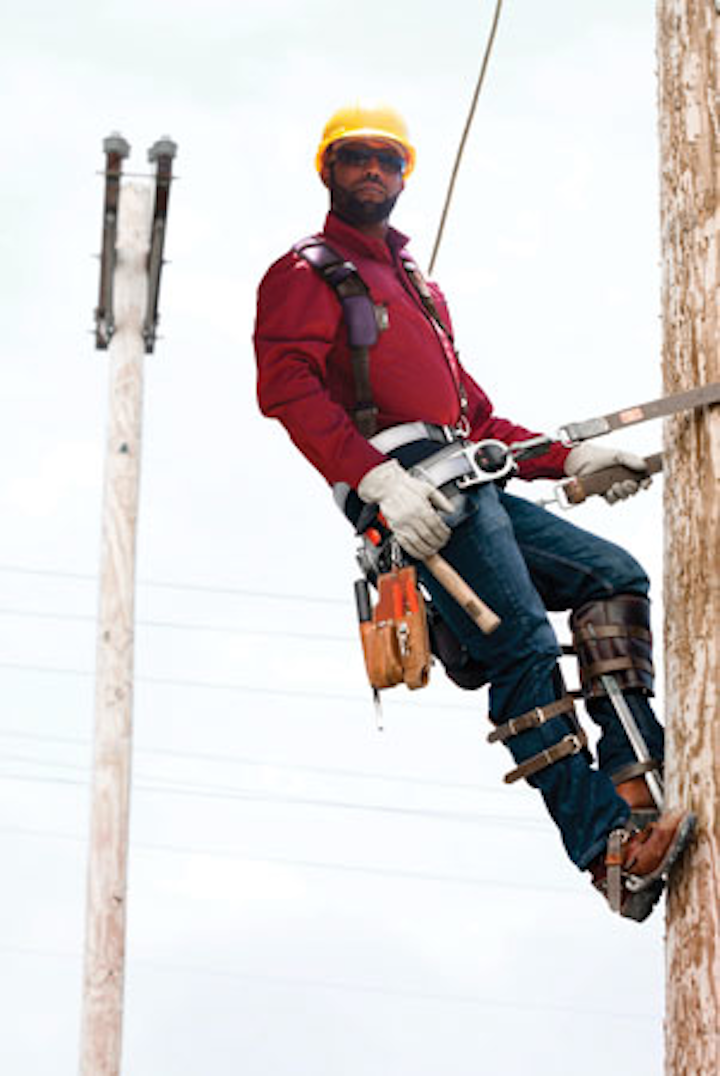 By Mark Saner
According to the American Burn Association, 486,000 people receive medical treatment for burns each year. Based on Occupational Safety and Health Administration (OSHA) statistics, 10 percent to 45 percent of all burns occur in the workplace and 40 percent of deaths caused by burns were related to workplace fires and explosions.
In the utilities industry, the potential for accidental arc flashes and flash fires contribute to the likelihood of burns. It is crucial, therefore, for employers to train their staff about preventing these safety hazards and provide them with the proper personal protective equipment (PPE).
The Role of FR Workwear
Flame-resistant (FR) workwear is made from fabrics that do not ignite and will not continue to burn when the flame/thermal source is removed. It also provides a barrier against flames and insulates the wearer from some of the heat. In work environments where arc flash and flash fire hazards are present, the use of FR clothing helps reduce the amount and severity of burn injuries and increases wearers' chances of survival if such an accident occurs.
OSHA Requirements
OSHA's 29 CFR 1910.269 regulation outlines PPE requirements for workplaces involved in electric power generation, transmission and distribution. Specifically, the regulation mandates that employers assess the workplace to identify employees that may be exposed to hazards from flame or electric arcs and determine the approximate amount of incident heat energy to which those employees would be exposed. When that estimated level of incident energy surpasses 2 cal/cm2, the employer must provide FR clothing for the affected workers.
In most cases, FR clothing must cover both the upper and lower body. Varying levels of FR protection are required, depending on the amount of incident energy an employee might encounter. The 29 CFR 1910.269 regulation also prohibits clothing that could melt onto a worker's skin or ignite and continue to burn when exposed to flames. In addition, it states that fabrics that can melt-such as acetate, nylon, polyester and polypropylene-must be avoided, both alone and as part of a fabric blend.
Beyond 29 CFR 1910.269, many utility companies refer to the National Electric Safety Code (NESC)-published by the Institute of Electrical and Electronics Engineers (IEEE) and adopted on a state level by individual OSHA organizations-to establish safe working conditions. This code requires that employees wear clothing with an arc-rating that is equal to or greater than the anticipated level of arc energy they could encounter on the job, as determined by an arc hazard analysis performed by the employer.
Providing the Proper FR Protection
Standards such as the National Fire Protection Association (NFPA) 70E and NESC provide additional guidelines regarding the levels of electric arc flash protection to address various amounts of potential incident energy exposure. For certain work environments, additional safety standards may apply, such as the ANSI/ISEA 107-2015 American National Standard for High-Visibility Safety Apparel, which discusses the protection necessary for workers in environments with poor visibility.
Fortunately, a wide variety of FR clothing options are available to meet the unique safety concerns of various work environments. Workrite Uniform Co., for instance, offers a Hi-Vis line of arc-rated FR workwear-including a work shirt, woven vest, mesh vest and long-sleeved T-shirt-designed to provide both FR protection and enhanced visibility that meets the ANSI/ISEA 107-2015 requirements for Class 2 or 3, Type R garments.
Beyond selecting FR clothing that meets the appropriate NFPA 70E or NESC specifications and addresses other relevant safety standards, it is important to ensure FR workwear is produced by a reputable, experienced manufacturer that follows diligent quality control processes. FR clothing should also be durable enough to withstand multiple washings and ongoing wear to ensure the FR protection lasts through the entire life of the garment.
Additional Considerations
In addition to protection, comfort is an important consideration when selecting FR workwear. If workers are uncomfortable in their FR clothing, they may not wear it properly or consistently, reducing the safety benefits. If workers are too hot and/or their clothing is too big, for instance, they may be tempted to roll up sleeves or unbutton shirts, leaving areas of the skin exposed to hazards.
To ensure the greatest possible comfort, strive to provide correctly sized garments for each worker-even if it means ordering non-stock sizes-and select fabrics that are appropriate for the temperature and weather conditions. A variety of fabric types and weights are available to balance proper protection with comfort considerations. In addition, choosing garments that allow for greater ease of movement, such as those that feature pleats and gussets, can help enhance comfort and support job performance.
A final component to evaluate when selecting FR clothing is long-term value. While certain options may be less expensive upfront, those garments may need to be replaced more frequently because of excess shrinkage or poor quality, resulting in a higher overall cost over time. For the best possible value, look for FR clothing that is made from high-quality fabrics and built with durability in mind. Features that contribute to improved durability include reinforced snaps, multiple bartacks in high-stress areas, reinforced pockets, double-felled and triple-felled seams, and high stitch counts.
One of the best ways to determine the best FR clothing for a given work environment is to collaborate with a manufacturer that supports wear tests, such as Workrite Uniform Co. Through a wear test, employees are able to try various workwear options firsthand and provide feedback before a final purchase is made.
By selecting high-quality FR clothing that meets applicable safety standards and regulations, keeps workers comfortable, and provides long-lasting durability, employers in the utilities industry can significantly reduce the risk of burn injuries on the job.
About the author: Mark Saner is the FR technical manager for Workrite Uniform Co., a position he has held since he joined the company in 2006. He brings more than 35 years of experience in the fire and safety industries to his work, including 29 years in technical support, safety standards and product development for Akron Brass Manufacturing Co. Saner participates as a voting member within a number of national and international safety organizations to help develop, revise, influence and further improve standards for worker safety. For questions related to safety requirements, product performance and industry standards, contact Saner at 1-800-521-1888 or visit www.workritefrcp.com.
For more information about Workrite Uniform Co. or other products, click here to go to Utility Products' Buyers Guide.