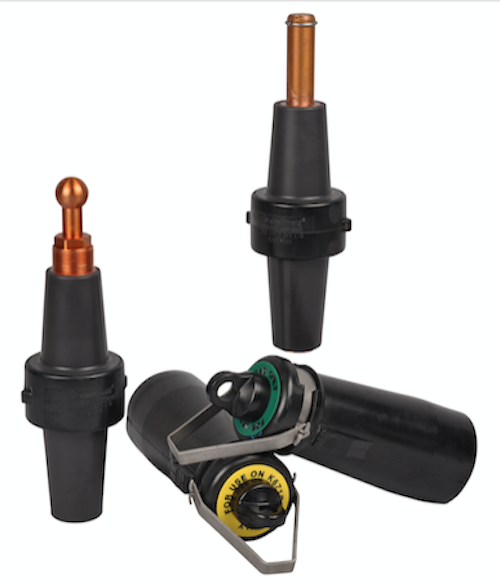 Safety products: The Elastimold® Grounding Device (GAD) from Thomas & Betts (T&B) provides a direct 600A, 25kA-rated connection with a removable protective cap that allows for increased safety in everyday operations.
Series GAD and GADDR are designed for standard C-clamp ground connections, and Series BGAD and BGADDR are specially designed for ball-stud ground connections.
"Very rarely do users have a direct 600-amp ground connection to connect to," Ralph Donati, product marketing director at T&B, said. "Usually, they must first reduce the connection to 200 amps, and then ground the system, reducing the capability to withstand short circuits from 25kA to 10kA. The Elastimold® GAD provides a direct 600A, 25kA-rated ground connection that is permanent, reliable and safe."
The Elastimold® GAD connects to the rear interfaces of 600A series elbow connectors (T-bodies) to ground the circuit. To remain open, the insulated cap with a capacitive test point assures that there is no voltage present. Once the circuit is de-energized, it is grounded through the grounding cable to the system ground.
Elastimold® GADs comply with the ANSI/IEEE-386-2006 Standard.
Thomas & Betts Corporation, a member of the ABB Group, is a global leader in the design, manufacture and marketing of essential components used to manage the connection, distribution, transmission and reliability of electrical power in utility, industrial, commercial, and residential applications. With a portfolio of more than 200,000 products marketed under more than 45 premium brand names, Thomas & Betts products are found wherever electricity is used. Thomas & Betts' headquarters are in Memphis, Tenn.
For more information about Thomas & Betts or other products, click here to go to Utility Products' Buyers Guide.