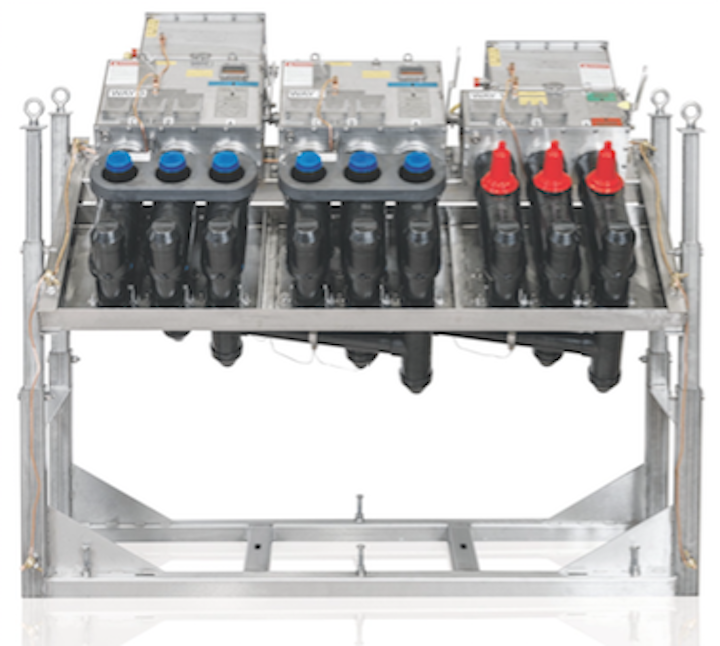 Switchgear: Thomas & Betts (T&B) has extended its line of underground distribution switchgear with Elastimold® Small-Vault Switchgear, which improves safety via operation outside of power-distribution vaults with an insulated fiberglass pole (hot stick).
Elastimold Small-Vault Switchgear is constructed of solid dielectric ethylene propylene diene monomer (EPDM) rubber, which is free of oil and sulfur hexafluoride (SF6) for low-maintenance operation and reliability in submersible applications. It is also compatible with the evolving smart grid.
In addition to safety, low maintenance and reliability, Elastimold Small-Vault Switchgear fits into new and legacy small utility vaults, which minimizes retrofitting costs for investor-owned utilities (IOUs), public-power utilities and other power-distribution operations.
"We designed Elastimold Small-Vault Switchgear for an IOU customer that needed switchgear retrofitted into legacy vaults with small spaces," Ralph Donati, product marketing director at T&B, said. "The design makes it accessible from the street level with a hot stick, in response to the customer's need for safer operation of solid dielectric switchgear that will be retrofitted into legacy vaults with space restrictions. The customer has been very pleased with the results."
Elastimold Small-Vault Switchgear offers a compact design with a height reduction of up to 33 percent, enabling installation in a wider range of compact vaults. It is also tilted at a 45-degree angle to enable full operability and visibility from the street level for greater safety. The Elastimold Small-Vault Switchgear's unique compact bus design enables more gear to be fit into a smaller space, while reducing overall switchgear width by up to 14 percent. Its vertical frame offers 6 inches of adjustability to tailor the switchgear to the dimensions of each vault.
Elastimold Small-Vault Switchgear is available in 2-, 3-, 4-, 5- and 6-way configurations. Voltage classes are available in 15kV or 27kV.
Thomas & Betts Corporation, a member of the ABB Group, is a global leader in the design, manufacture and marketing of essential components used to manage the connection, distribution, transmission and reliability of electrical power in utility, industrial, commercial, and residential applications. With a portfolio of more than 200,000 products marketed under more than 45 premium brand names, Thomas & Betts products are found wherever electricity is used. Thomas & Betts' headquarters are in Memphis, Tenn.
For more information about Thomas & Betts or other products, click here to go to Utility Products' Buyers Guide.