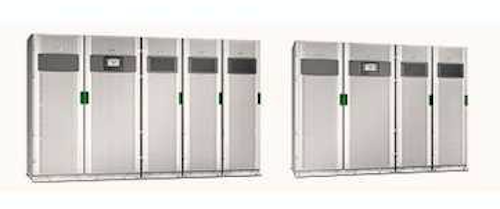 Energy management: Schneider Electric, the global specialist in energy management and automation, has introduced Galaxy VX™, a highly efficient, easy to deploy, compact three-phase uninterruptible power supply (UPS) with flexible operating modes for large facilities, data centers and business-critical applications.

This innovative pay-as-you-grow solution will support enterprises in their move to hyperscale data centers and enable them to reap the greatest value in their IT deployments by delivering efficiency without compromising reliability.

"As cloud computing and co-located IT models continue to expand in the enterprise, there is a growing focus on energy efficiency to support the move to hyperscale data centers," said Pedro Robredo, Vice President of Secure Power Systems, Schneider Electric. "Galaxy VX provides lower cost of ownership, while delivering high availability, consistency and scalability through a true pay-as-you-grow model. With Galaxy VX, we're also providing customers with multiple energy storage options to offer the best approach for their business now, while enabling them to prepare for energy storage needs to come."

Up to 99 percent Efficiency
Galaxy VX fully integrates with Schneider Electric energy management solutions and features flexible operating modes to optimize the efficiency of IT environments, including:
• Double Conversion Mode: Through highly efficient Double Conversion Mode, Galaxy VX reduces switching losses using a four-level conversion technology. The reduced switching stress offers greater reliability and reduction in failure rate.
• Eco Mode: Galaxy VX offers a traditional economy mode, which delivers up to 99 percent efficiency.
• ECOnversion Mode: With this new operating mode, Galaxy VX offers a hybrid between Eco Mode and Double Conversion Mode. ECOnversion delivers double conversion performance with up to 99 percent efficiency.

The Galaxy VX UPS will be available in North America June 2016 through Schneider Electric and its partners. The newest member of the Galaxy V family of power protection solutions, Galaxy VX seamlessly integrates into the electrical, physical and monitoring environments of customers operating data centers, industrial or facilities applications. For more information on Schneider Electric's Galaxy V portfolio of power protection solutions, visit the Schneider Electric website.

About Schneider Electric
Schneider Electric is the global specialist in energy management and automation. With revenues of ~$30 billion in FY2015, our 160,000+ employees serve customers in over 100 countries, helping them to manage their energy and process in ways that are safe, reliable, efficient and sustainable. From the simplest of switches to complex operational systems, our technology, software and services improve the way our customers manage and automate their operations. Our connected technologies reshape industries, transform cities and enrich lives. At Schneider Electric, we call this Life Is On.
For more information about Schneider Electric or other products, click here to go to Utility Products' Buyers Guide.