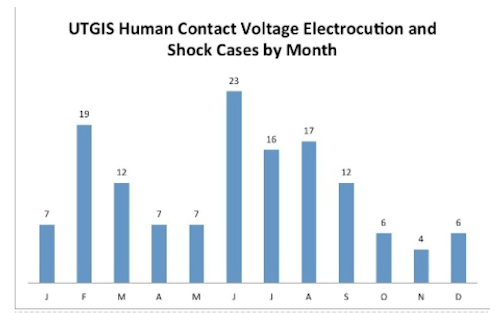 Utility safety: Database analysis on public shock and electrocution cases collected by Utility Testing and Geographic Information Systems (UT/GIS, UTGIS) shows summertime, but more specifically the month of June, as being the most hazardous period for humans during the year from electrical faults on publically accessible municipal and utility infrastructure equipment. This equipment typically includes metal street light poles, pools/fountains, junction boxes and fences, but coordinated testing programs have also found unsafe voltage levels on fire hydrants, phone booths, bus shelters and amusement park rides to name a few others.
"Public shocks and electrocutions to humans increase during summer months because we shed heavy winter clothing - clothing that provides a certain level of insulation against electrical hazards," according to UTGIS President Mark Voigtsberger. "While electrical faults on municipal and utility infrastructure equipment occurs all year long, bare feet, open-toe shoes and exposed skin surfaces increase the hazard potential during the summer time frame."
What makes public shock and electrocution cases so unique is they occur in areas where we don't normally expect electrical hazards to exist: principally our city sidewalks, streets and play areas.
The UTGIS database also seems to indicate another emerging seasonal electrical safety trend: "Power systems dormant over the long winter months develop faults when reactivated for summer use. These dormant electrical systems include parks, sports complexes and public venue wiring used for lighting and general power needs," said Voigtsberger. "Typically these types of faults will not trip protective fuses or circuit breakers because the electrical system has never been properly maintained, and if these overcurrent devices don't operate it can result in serious injury or death."
Almost every public shock or electrocution case can be traced back to a lack of maintenance or inspection of the electrical infrastructure. Many city wiring systems were installed decades ago -- with no follow up checks on its integrity.
Voigtsberger recommends trying to develop a situational awareness to reduce the possibility of public shock and electrocutions this summer. "The visual symptoms of someone being shocked or electrocuted are identical to scores of other possible medical conditions. Take stock of the situation before trying to rescue someone or if you think you are being shocked. You may only have a few seconds to make a life or death decision."
For more information about UTGIS or other products, click here to go to Utility Products' Buyers Guide.