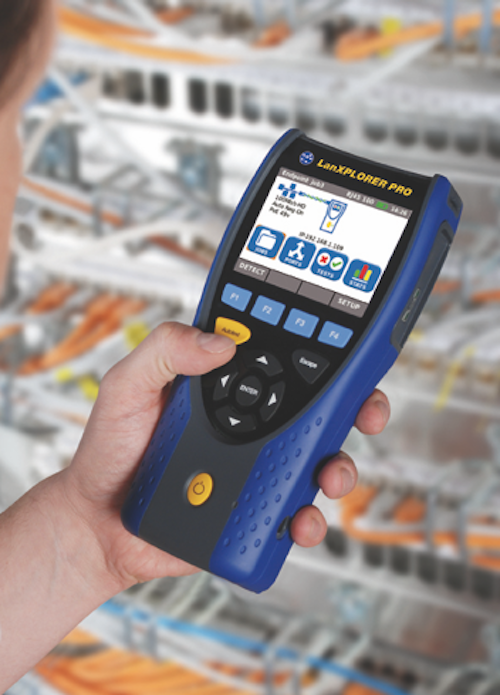 Test products: Network downtime can be costly to technicians and businesses. Delays in diagnosing problems prevent work from being completed on-time, can postpone other scheduled jobs, and even result in fines being incurred from clients for any downtime over and above an agreed limit.
To help prevent those issues, technicians using the upgraded LanXPLORER Pro from IDEAL Networks can now transfer test data to mobile devices directly from the work site using the IDEAL AnyWARE mobile app. The app lets users quickly and simply share PDF or CSV test reports with colleagues or clients, even those based in other locations, improving collaboration and troubleshooting capabilities as well as boosting productivity and minimizing downtime.
Network Connectivity Functions
The upgraded LanXplorer Pro reduces network downtime by quickly finding and diagnosing problems in networks, cabling and Ethernet devices using copper, fiber and Wi-Fi interfaces. By connecting directly to a specific point -- rather than scanning an entire network -- it can verify status and connectivity in seconds, then monitor the total network bandwidth, analyzing the top 10 bandwidth talkers and listeners to identify devices which may be reducing network performance.
In addition, the new LanXPLORER Pro NETMAP and NETVERIFY functions perform full scans of a network to find and display all active devices by IP address, MAC address as well as host name. These results are then saved and compared with future NETMAPs to easily identify any changes in network configuration or to alert a user to any new or removed devices which may impact performance.
With the newly designed Wi-Fi interface, the LanXPLORER Pro can connect and troubleshoot a network anywhere, or perform a Wi-Fi site survey that displays the access point ID, signal strength, channel and encryption status of a network, so it can identify any cause of connection issues like overlapping Wi-Fi channels or incorrect SSID setup. This allows a technician to perform a holistic test of any network, anywhere in the world.
For VoIP phone calls that fail to connect or have issues with poor quality, the LanXPLORER Pro measures signalling processes and Quality of Service (QoS) in real time using the Session Initiation Protocol (SIP) and provides crucial metrics for troubleshooting including jitter, delay, total packets, packet loss, source/destination IP addresses and UDP port number.
The LanXPLORER Pro has been designed so that technicians can now choose between two modes of diagnosis: end point or in-line. Both modes find and solve issues faster than ever before, including faults that cannot be found with standard management software, helping to significantly reduce network downtime.
When the tester is in endpoint mode, connections to active network ports and Ethernet devices can be made in order to verify network status and connectivity. In-line mode allows the LanXPLORER Pro to be installed as proxy between another device and the network itself to diagnose Ethernet issues which cannot be detected by a PC or on a managed switch. Both modes give testers a more in-depth view of a network, all on a single device, alleviating the need for extra equipment onsite.
ABOUT IDEAL NETWORKS
The IDEAL Networks Division is a worldwide leader in data communications solutions. IDEAL Networks develops and manufactures network testers, network installation and management equipment for Local Area Networks (LAN), Wide Area Networks (WAN) and access telecom infrastructures worldwide.

IDEAL Networks was formed in 2010 when Wavetek and Trend Communications, previously acquired by IDEAL in 2001 and 2004 respectively, were merged with the IDEAL datacomm tools and connector divisions. The result was a new division focusing on all issues involving the installation and testing of local and wide area networks. By merging Trend's experience in the telecom sector, Wavetek's expertise in local network certification, and the years of experience that IDEAL has with datacomm tools and connectors, the IDEAL Networks Division is able to offer some of the most comprehensive networking solutions in the industry for everything from installation to testing and certification.
For more information about IDEAL Networks or other products, click here to go to Utility Products' Buyers Guide.