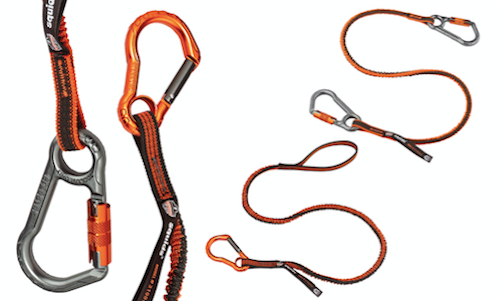 Safety equipment: Ergodyne offers its innovative shock absorbing tool lanyards. The newest Squids® products prevent struck-by object incidents below while protecting those tethering above.
The new additions to the product line include:
• 3100F(x) Tool Lanyard Single Carabiner
• 3110F(x) Tool Lanyard Dual Carabiner
• 3108F(x) Tool Lanyard Single Locking Carabiner
• 3118F(x) Tool Lanyard Dual Locking Carabiner
If a tool is anchored to a worker's body, a drop force can easily throw that person off-balance or drag them down from heights. Consider that a 5 lb. tool tool dropped just 5 ft. can generate over 200 lbs. of force on many competitive tool lanyards and homemade tethering systems.
Made with a unique lightweight and low-profile polyester blend webbing that extends and retracts, Ergodyne's new Squids® Lanyards help prevent snag hazards and reduce additional weight on a climber. Shock-absorbing material blended into the webbing of these lanyards reduces the force a worker feels five times more than most competitive lanyards.
Additionally, the patent-pending aluminum carabiners are ergonomically designed to work well with gloved hands, and can be exchanged safely and conveniently if necessary. Tacky tool treads were woven into the lanyard loops to provide extra grip onto tools when attached.
"We've been leading the charge to raise awareness, implement industry standards, and introduce safety solutions for dropped objects," said Tom Votel, president and CEO, Ergodyne. "It's not a new safety hazard, but it affects many industries and its impact can be costly."
Ideal for workers at heights (and anyone below) in industries ranging from construction and telecommunications to oil & gas, manufacturing, and more, the new Squids® Lanyards are available NOW at all authorized Ergodyne distributors.
For more information about Ergodyne or other products, click here to go to Utility Products' Buyers Guide.