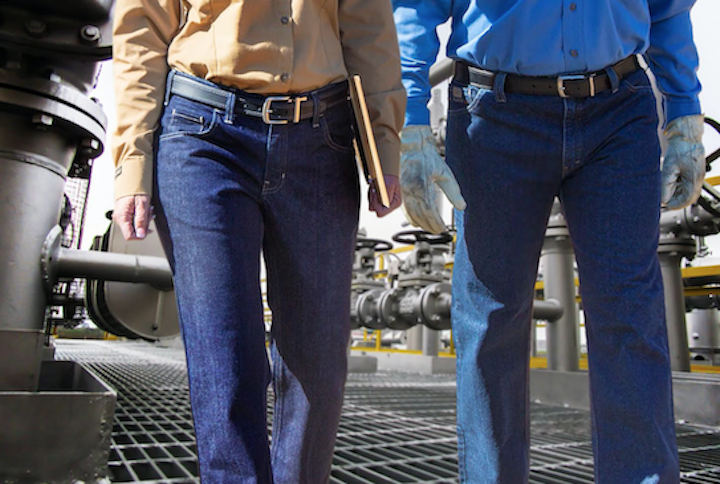 Flame resistant clothing: Workrite Uniform Company, a flame-resistant (FR) workwear manufacturer, announces the launch of its FR denim collection. Created under the company's Workrite® FR, Dickies® FR and Walls® FR brands, the collection includes 11 styles of FR denim pants. The new line is scheduled to be unveiled at the world's largest safety show, hosted by the National Safety Congress (NSC) from Oct. 17 – 19. Attendees of the 2016 International Lineman's Rodeo Safety & Training Conference will also able to preview the new Workrite Uniform denim collection from Oct. 13 – 15.
"This denim collection offers wearers a comfortable, modern fit, while also providing the high level of FR protection Workrite Uniform has become known for," said Wes Schmidt, Workrite Uniform's associate brand leader, who worked to develop the new collection. "Workrite Uniform continues to pave the way as a leader, not only in FR safety –– often exceeding industry standards –– but also in innovation, quality construction and, now, style."
The collection features six FR denim pant styles from Workrite FR — including two new designs — one for men and one for women. This design is a fashion-forward, deep blue Westex Indigo™ fabric. Backed by a long heritage of quality denim, the Dickies FR line now includes two additional men's jean style, based on the popular Dickies X-Series, for a total of four FR denim options. The effective and practical Walls FR brand also offers two different styles of denim with up-to-date pocket designs.
Workrite Uniform offers a variety of FR clothing options for both men and women. To see Workrite Uniform's complete denim collection on display at NSC, visit booth #1640. For a preview at Lineman's Rodeo, go to booth #322. To learn more, explore www.workrite.com or call 800-521-1888.
ABOUT WORKRITE UNIFORM COMPANY
Workrite Uniform Company is a business-to-business (B2B) affiliate of Williamson-Dickie ("Dickies"), a global workwear brand. Founded in 1973, Workrite Uniform has delivered high-quality flame-resistant (FR) workwear for more than 40 years. It is also the leading supplier of FR station wear for fire service. An ISO 9001:2008-certified company, Workrite Uniform is solely focused on the development and manufacturing of FR clothing for industries throughout North America. Today, Workrite Uniform offers four top-quality FR brands, Workrite® FR, Workrite® FR Fire Service, Dickies® FR and Walls® FR, in the B2B market.
For more information about Workrite Uniform Company or other products, click here to go to Utility Products' Buyers Guide.