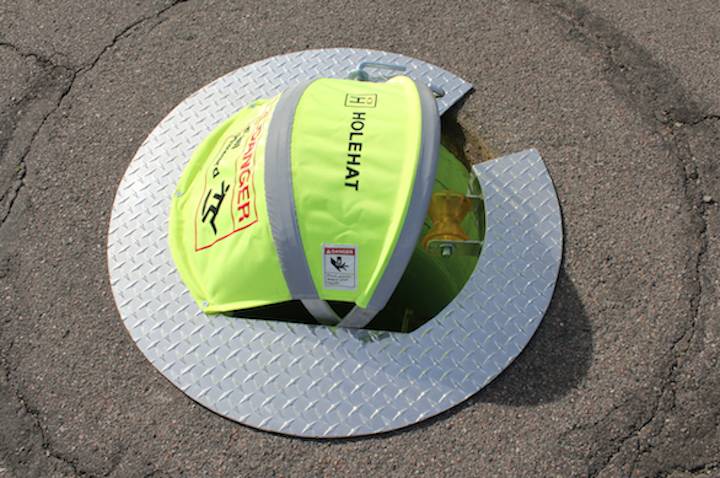 Holehat provides a raised visual deterrent and fall protection for utility manholes. The retractable manhole safety cover is lightweight, portable, and simple to use. Aluminum construction gives the unit high strengths while the three-position retractable cover provides space for maintenance, cleaning and inspection equipment.

The bright yellow nylon cover has a large warning and reflective fabric for day and nighttime visibility. When a utility line is accessed through an open manhole a fall hazard is created, the Holehat will eliminate this hazard, keeping personnel and pedestrians safe.

Ten reasons to use Holehat:
1. Proudly made in the USA.
2. Will make agency compliant with OSHA 1926.501 (b)(4)(i). The most violated OSHA standard is fall protection.
3. Designed to exceed OSHA 1926.502(i)(2).
4. High strength aluminum frame and arches.
5. Lightweight and portable (30 lbs).
6. Slip resistant diamond plate cover.
7. Retractable and durable bonnet cover.
8. Reflective strips for high visibility day or night.
9. 4-in. roller wheel for hoses/cables.
10. Fits over 24-in. and 30-in. manhole openings.
For more information about Holehat or other products, click here to go to Utility Products' Buyers Guide.