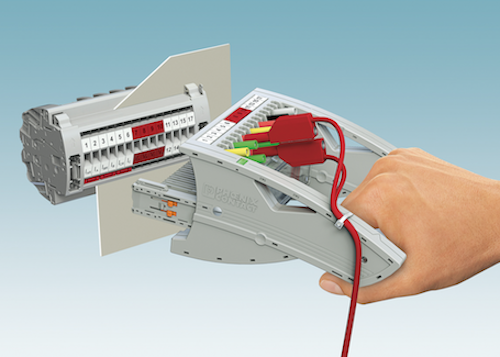 Test products: Utility engineers and technicians can now complete complex switching operations in a single procedure with Phoenix Contact's FAME 3 Test System (Fast and Modular Energy). The touch-safe testing system features ring-lug terminal connections, preferred by U.S. electric power companies.
FAME 3 incorporates a pluggable system for testing and system maintenance for low- and medium-voltage switchgear. The system consists of two primary components: a base test unit with ring-lug terminal points, and a removable handle that facilitates test operation.
Circuits are wired to the back of the base unit, inside the cabinet. The modular base unit, which accommodates between four and 25 positions, can be configured for 10- or 14-positions to match common industry practice. The base unit matches existing door cutouts, making it ideal for retrofits.
The handle, with safety test leads and adapters, plugs into the base test unit for effective protection, metering, and control of hazardous circuits. To further enhance operator safety, blind plugs (to prevent unintended access) and clear covers can be added.
The system's touch-safe design, with automatic current transformer (CT) short-circuit function, ensures a high degree of safety for test and measurement. It also enables clear detection of all switching states. The test switch's patented twist grip ensures a safe test process. Individual switching operations can be performed using service connectors.
FAME 3 is supported by an extensive line of accessories for wire jumpering, marking, and test adapters. This can reduce component and storage costs.
About Phoenix Contact
Phoenix Contact develops and manufactures industrial electrical and electronic technology products that power, protect, connect and automate systems and equipment for a wide range of industries. Phoenix Contact GmbH & Co. KG, Blomberg, Germany, operates 50 international subsidiaries, including Phoenix Contact USA in Middletown, Pa.
For more information about Phoenix Contact or other products, click here to go to Utility Products' Buyers Guide.