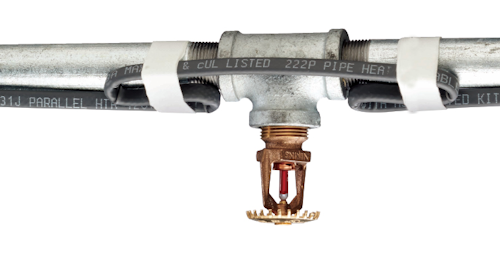 Safety equipment: EasyHeat, a business unit of Emerson Industrial Automation, announced that its SR and TSR self-regulating electric heat trace cables are now CSA and CSA-UL approved and comply with recent requirements in NFPA 13 for freeze protection from main water lines to fire sprinkler heads. NFPA13 is the industry benchmark for design and installation of automatic fire sprinkler systems.
Fire sprinkler systems are extensively used throughout the United States, with over 25 million sprinkler heads fitted each year. In buildings completely protected by fire sprinkler systems, over 99% of fires were controlled by fire sprinklers alone. EasyHeat Self-Regulating cables prevent non-flowing water in branch fire sprinkler lines from freezing in ambient temperatures down to -40° F. Freezing is a very serious concern for systems located in unheated spaces such as outdoor garages, loading docks, attics, crawlspaces and car washes.
EasyHeat SR and TSR cables are inexpensive to run with virtually no maintenance needed, no chemicals to buy, and no need to pay a professional to clear water lines annually. The cables are a safe alternative to conventional freeze protection systems, since heating cables offer a quicker response than "dry systems," plus provide full protection without the need for antifreeze chemicals that may adversely affect components in the sprinkler system, including clogging sprinkler heads or corroding metal pipes. Also, electric heat trace systems eliminate the possibility of antifreeze chemicals leaking from the pipes into drains and ground water. And if a fire does occur, no chemicals will be sprayed on personnel, the facility or equipment.
Engineered to provide an exact level of heat where it is needed without worry of overheating, SR and TSR cables automatically vary heat output, allowing the cable to be overlapped without creating hot spots during operation. In addition to making the cables safe, the self-regulating capability also minimizes electricity costs. Contractors will appreciate that the cables can be cut to cut to length and are completely waterproof.
EasyHeat offers connection kits and controllers designed to integrate seamlessly with freeze protection system.
About Emerson
Emerson (NYSE: EMR), based in St. Louis, Missouri (USA), is a global leader in bringing technology and engineering together to provide innovative solutions for customers in industrial, commercial, and consumer markets around the world. The company is comprised of five business segments: Process Management, Industrial Automation, Network Power, Climate Technologies, and Commercial & Residential Solutions.
About Emerson Industrial Automation
Emerson Industrial Automation, a business of Emerson, provides automation and power generation technologies and services to a wide range of industries. With its global capabilities and deep industry expertise, Emerson Industrial Automation is a trusted partner for products and solutions that increase machine performance, efficiency, reliability, and availability. Its industry-leading brands include Appleton®, ASCO®, Branson®, Control Techniques, Leroy-Somer®, Numatics®, O-Z/Gedney, and SolaHD™.
For more information about Emerson Industrial Automation or other products, click here to go to Utility Products' Buyers Guide.