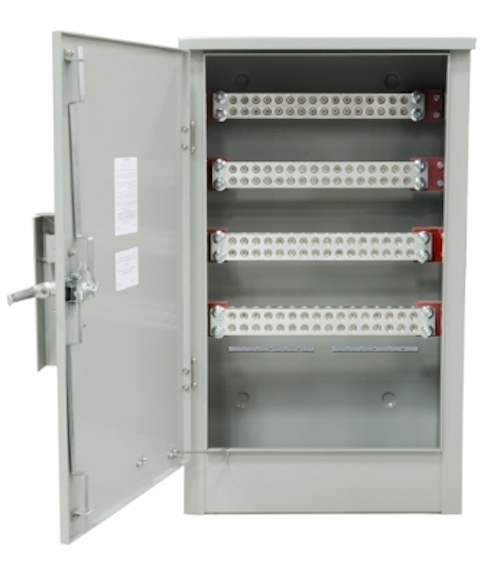 Energy management: In response to the growing cost of energy theft from utility lines, estimated at nearly $6 billion a year in the U.S. alone, Milbank announces the launch of its tap box product line. The tap box houses all necessary electrical components in a single enclosure, secured with a pad-lockable, three-point latching system, which makes tapping into electrical systems to steal power far more difficult. According to Deloitte Consulting's CIO Journal, stealing electricity ranks as the third largest form of theft in the U.S. behind shoplifting and copper theft.
Milbank's tap box is a lightweight, aluminum enclosure which securely distributes utility power for multi-tenant applications, such as apartment complexes, commercial sites and strip malls. The alternative is a vulnerable power distribution array known among electrical contractors as a trough system, which leaves utility lines exposed—an easy target for power theft.
"The tap box was designed and manufactured in the U.S. as a direct response to input from our utility partners – it's really one-of-a-kind," explained Kris Johnson, general manager. "We kept hearing about the widespread problem of power theft. Perpetrators were tapping into lines to siphon power before it reached the meter—costing utilities thousands of dollars each month in lost revenue."
The product appeals to electrical contractors with its lightweight aluminum construction, making installation easy. Weighing in at approximately 100 pounds, a single worker can install the unit which saves both the customer and contractor money. In addition, the tap box is UL listed, making it a go-to product for any multi-tenant or commercial site. Finally, the tap box is a cleaner, more attractive solution for taking power from the utility source and disseminating that power to multiple customers.
Utilities are welcoming the new product line, which has already been approved in select geographic areas. Some utilities no longer allow the trough system installations on their grid due to its vulnerability to power theft.
While Milbank has expanded its horizons into new ventures over the last few years, the company remains committed to the continuous improvement of its long-standing product categories and plans to launch additional new products in the coming months.
About Milbank
Milbank is an international energy management company, developing and manufacturing over 19,000 finished good items that travel through 4,500 distributors to bring electricity into homes, businesses, and cities in 36 countries. Most products are made in the U.S. Milbank designs and builds solutions to move, manage and optimize power for the residential, commercial, industrial, utility and transportation sectors. Milbank combines more than 85 years of expertise in electrical engineering, design and production with a commitment to develop and implement sustainable, integrated and optimized energy solutions. Its portfolio includes electric metering systems, energy management solutions, enclosed controls, enclosures, standby and portable power as well SynapSuite™, Milbank's patented smart technology for controlling and optimizing distributed energy and microgrid components. A third-generation, family-owned business, Milbank is headquartered in Kansas City, Mo.
For more information about Milbank or other products, click here to go to Utility Products' Buyers Guide.