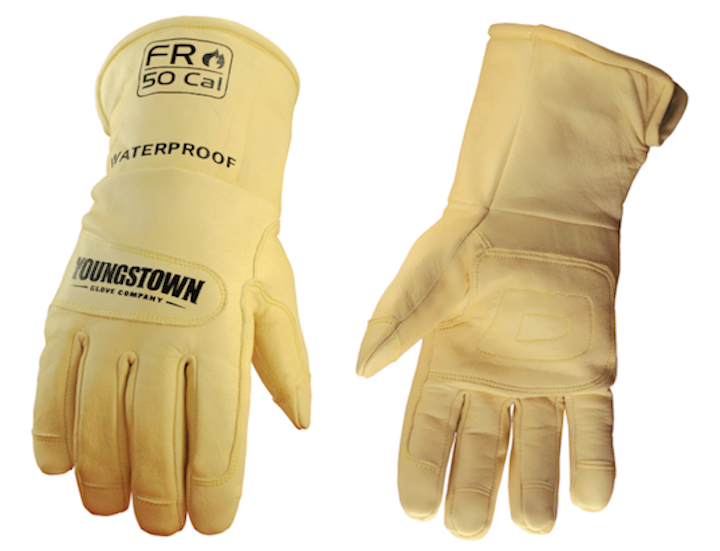 Work gloves: Youngstown's FR Waterproof Leather Utility lined with Kevlar® is an arc-rated, cut-resistant, flame-resistant and waterproof leather glove designed to keep hands warm, dry and protected. It is made of triple layer technology consisting of a high-quality goatskin outer shell, 100 percent waterproof and windproof membrane and a liner made of 100 percent Kevlar® fiber by DuPont™. The entire glove is sewn into an ergonomic, 3D pattern to provide superior dexterity, comfort and durability. Arc rated to 50 cal/cm².
Result: increased efficiency, productivity and safety for industrial, electrical, and utility workers, while complying with the NFPA 70e-2015 standard and OSHA 29 CFR Part 1926.

THE FALLEN LINEMEN ORGANIZATION
A portion of this glove sale goes directly to the Fallen Linemen Organization. The FLO's mission is to memorialize fallen electrical line workers, and care for the families who have lost or are impacted by a severe injury of a loved one in the line of duty. To learn more click here.
Features & Benefits
• Arc Rating: 50 cal/cm² according to ASTM F2675/F2675M-13
• Cut Resistant: ANSI/ISEA 105 level 2 & 3
• Puncture Resistant: ANSI/ISEA 105:2011 level 4
• Flame Resistant: exceeds standards according to ASTM F2302 and D6413
• Cut-resistant liner made with Kevlar® fiber by DuPont™ throughout the entire glove
• 100% waterproof and windproof
• 18oz/yd² high quality goat grain leather
• 4" safety cuff for extended wrist protection
• Keeps hands warm, dry and protected
• Form-fit to hand for superior dexterity and safety
• Compliant: NFPA 70e-2015 Standard/OSHA 29 CFR Part 1926
• Ideal for Utilities / Linemen / Oil and Gas / Farm / Ranch / Construction /Landscape
• DuPont™, and Kevlar® are registered trademarks or trademarks of E.I. du Pont de Nemours and Company or its affiliates.
For more information about Youngstown or other products, click here to go to Utility Products' Buyers Guide.