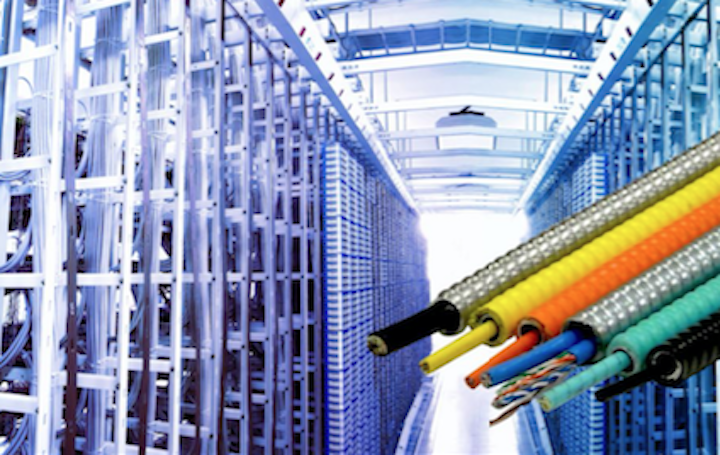 Safety products: AFC Cable Systems Inc., manufacturer of electrical products headquartered in New Bedford, MA, offers a wide range of custom armoring solutions suitable for applications in the power and electrical distribution industry. The custom armoring, available through both the AFC Cable Systems and Kaf-Tech brands, adds a protective interlocking armor to customer-supplied wire, cable or fiber core. Customers can take advantage of a variety of cable bundling options under one cable protection system, including bundling communications cable with fiber counts of 12, 24, 36, 48 or more.
An optional outer jacket of specialty formulated PVC can be added to provide extra protection and color-coded to act as a differentiator from other similar cables and for ease of identification. This option is ideal for use in plenum and riser applications, wet locations, and where cable is embedded in concrete.
The AFC custom armoring provides mechanical protection and easy cable identification, as well as protection from moisture, plenum, and riser environments. Bundling multiple cables under one armor reduces installation steps, providing significant time and labor cost savings compared to conventional raceway methods.
Custom armoring is an ideal solution for communications data cable manufacturers. Numerous UL-listed fiber telecommunications options are available, including category 5 (Cat 5) and category 6 (Cat 6). AFC Cable has CSA International approval to armor and jacket for an extensive range of applications.
AFC offers fast turnaround, and provides OTDR testing to ensure fiber optic cable integrity is maintained.
About AFC Cable Systems:
AFC Cable Systems, Inc. is a leading manufacturer of electrical products, tracing its origins to 1926. AFC supplies a broad range of innovative, cost-saving products to the electrical industry. These products include: armored and metal clad cables, flexible metal conduits, non-metallic, and liquid-tight conduits as well as modular wiring systems, and electrical fittings. AFC Cable System's provides products used in new construction, restoration and modernization of commercial office buildings, institutional facilities, healthcare, and more.
About Kaf-Tech:
Kaf-Tech is a leading designer, manufacturer and supplier of electrical distribution products, including cost-saving armored and metal clad cables, conduit fittings, and other products for electrical applications. Kaf-Tech is known for supplying flexible wiring systems, flexible metal, non-metallic, and flexible metallic liquid tight conduits and fittings used in the construction and modernization of commercial office buildings, institutional facilities, shopping centers, and multifamily dwellings.
Both AFC Cable Systems and Kaf-Tech are part of Atkore International.
For more information about AFC Cable Systems or other products, click here to go to Utility Products' Buyers Guide.