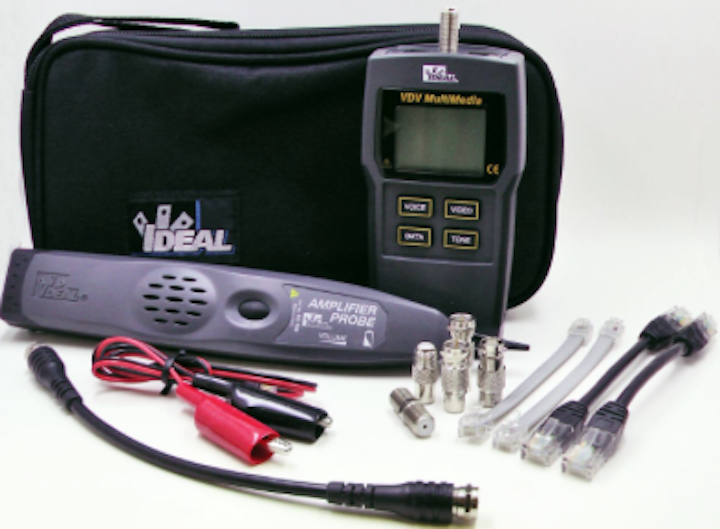 Test products: IDEAL Industries is giving network installers and techniciansall the tools they need to accurately identify wiring errors within virtually any type of VDV application with its Test-Tone-Trace Kit. Neatly packaged in a custom carrying case, this all-in-one solution performs the essential cable testing functions required in the Security, Data/Network, and A/V markets at a fraction of the price of buying testers and tools separately.
The kit allows a technician to:
• Verify if new VDV installations are wired correctly
• Troubleshoot existing VDV wiring installations
• Locate hard to find cables
• Test and Identify all common errors in modular plug/jack terminations that lead to slow/no connections: Shorts, Opens, Miswires, Split Pairs, and Reversals
• Verify patch cables for proper wiring and continuity (RJ-45, RJ-11, F, BNC, RCA)
• Identify shielded and 568A to 568B uplink cables
• Identify a single cable within a bunch of cables
• Tone and Trace entire cables, select pairs, or individual wires within a cable.
At the center of the kit is the IDEAL VDV Multimedia Tester. This versatile, handheld tester features an LCD screen to display Pass/Fail results and notification of wiring errors, which require repair. Its built-in Tone Generator has four distinct tones that can be used to trace coax, RJ-45 and RJ-11 cables, plus any de-energized copper cable including speaker wires, alarm cables, and electrical wires.
An included Amplifier Probe detects tone signals generated from the VDV Multimedia Tester for cable identification and location. Other accessories are a built in F-Port (Coax), RJ-11 Port (Phone), RJ-45 Port (Data), and additional coax adapters to test BNC (Security) and RCA (A/V) coax cables.
For more information about IDEAL Industries or other products, click here to go to Utility Products' Buyers Guide.