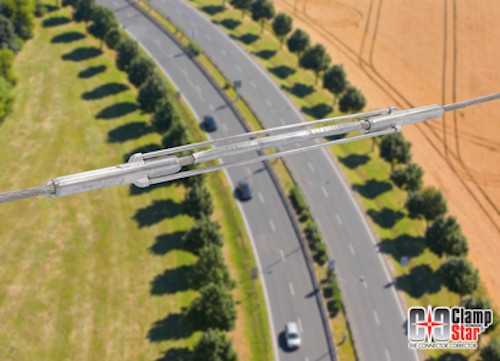 Safety equipment: Classic Connectors USA's new ClampStar model CSR-1631-048 is designed to protect and thermally uprate connectors to meet n-1 contingency conditions as well as continuous service on overhead transmission lines with Aluminum and ACSR type conductors sized from 1272 Bittern to 1780 Chukar and up through 2000 kcmil Cowslip AAC.
Each unit is prefilled with proprietary CC2 inhibitor to prevent galvanic corrosion and is designed with an integral fastening assembly that provides a high conductivity path and incorporates flat and Belleville washers to maintain compressive force regardless of temperature induced contraction and expansion.
ClampStar shunts provide an excellent solution for PERMANENT mechanical and electrical upgrade to existing conductor connections. And ClampStar helps meet NERC's maximum conductor operating temperature requirements without costly replacement, repair or expensive downtime. Additional sizes are available for splices, suspension clamps, deadends, and damaged conductor repair. ClampStar units are designed for use on ACSR, AAC, AAAC, ACAR, ACSS & Fiber composite core. ClampStar units are also available for use on copper conductors.
• New lighter weight design installs in less than 10 minutes!
• Decreases total installation time by 70 – 80 percent
• Easily installs over existing connectors
• No mechanical grips, Come-Alongs, jumper cables or cutters needed
• Installs with a hot stick or barehand
For more information about Classic Connectors USA or other products, click here to go to Utility Products' Buyers Guide.