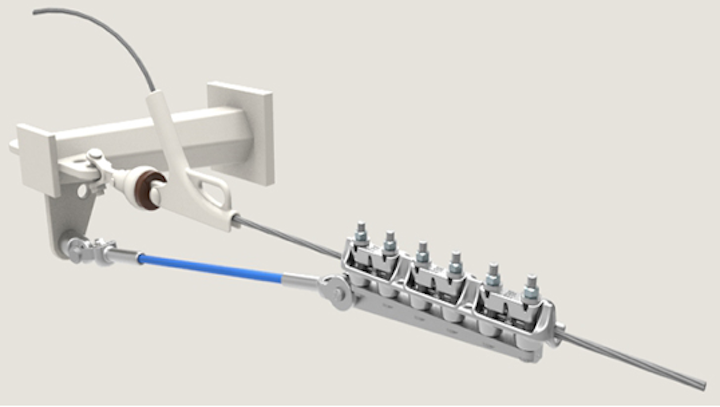 Safety equipment: Classic Connectors USA introduces the new ClampStar® for Overhead Shield Wire. This new ClampStar is designed for both tangent and deadend applications as well as splices. Full tension on galvanized and HSS, as well as Alumoweld! Both insulated and non-insulated versions available. An option for copper is also offered. All the features you'd expect from ClampStar: prefilled with the proper inhibitor, torque-shear fasteners, first class, high integrity solutions!
• Lightweight design installs in less than 10 minutes!
• Easily installs over existing connectors
• No mechanical grips, Come-Alongs, jumper cables or cutters needed
• Installs with a hot stick or barehand
ClampStar OHSW units are a permanent repair fitting composed of an attachment head, which connects to the OHSW and a connecting link that attaches to the tower bracket. This connecting link is available in either an insulated or non-insulated design based on the application. A custom bracket is included to anchor the assembly to the tower. This unit serves as an OSHW safety catch to prevent the shield wire from falling into the energized conductors or substation bus below.
ClampStar units are readily and quickly installed from any aerial platform (including helicopters). ClampStar units may be used for a variety of repair situations, at splices, dead-ends, suspension systems, or wherever conductor or attachment hardware damage has occurred, or may occur.
ClampStar shunts provide an excellent solution for PERMANENT mechanical and electrical upgrade to existing OSHW connections. ClampStar will meet NERC's requirements for OHSW safety anchors without costly replacement, repair or expensive downtime.
Each unit is prefilled with proprietary CC3 inhibitor to prevent galvanic corrosion and is designed with an integral fastening assembly that provides a high conductivity path and incorporates flat and Belleville washers to maintain compressive force regardless of thermal contraction and expansion.
As the grid ages, many electric utilities are experiencing a large increase in downed lines due to overhead connectors reaching the end of their service life. Installing ClampStars on them before they fail is the best way to prevent outages and protect the public.
The smartest grid in the world looks pretty stupid when it is lying on the ground!
Other ClampStar distribution and transmission products are available for splices, suspension clamps, dead-ends, and damaged conductor repair. ClampStar units are also available for use on all aluminum stranded conductors, e.g., ACSR, AAC, AAAC, ACAR, ACSS & fiber composite core.
For more information about Classic Connectors USA or other products, click here to go to Utility Products' Buyers Guide.