Test products: Monitor CO2, temperature, humidity
Safety products: AEMC offers the Model C.A 1510 indoor air quality monitor/logger.
Feb 16th, 2016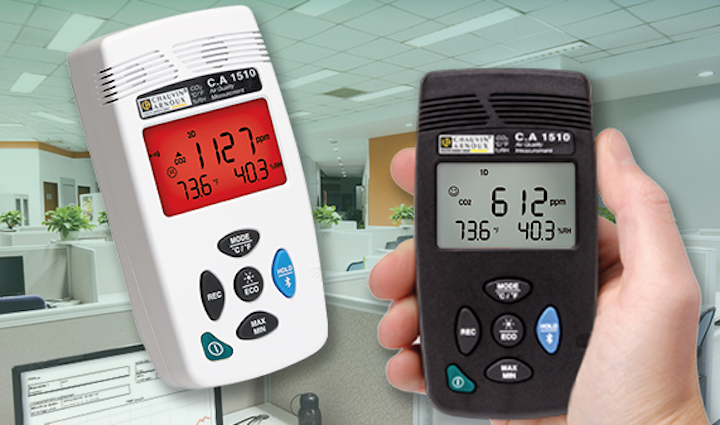 Test equipment:AEMC's Model C.A 1510 allows you to monitor CO2, temperature and humidity for a healthy environment. Used in government offices, transportation, workplaces, private residences, educational institutions and more.

• Simultaneously monitors and displays CO2, Temperature and Humidity
• Stores up to 1 million measurements
• Case design facilitates both wall mount and stand-alone use
• Easy-to-read comfort indicators based on CO2, Temperature and Humidity
• Complies with the latest air quality standards
• Display can be turned off to conserve battery power
• Quick and simple data download via USB cable or wireless Bluetooth
• Supplied with AQR (Air Quality Report) software for data processing and report generation
• The display blinks with red backlighting when any measured parameter exceeds the user-selected threshold
• An Android™ App is available for download on Google play
Available in two colors: white for laboratories, schools, medical, private residences and office environments and gray for industrial environments
For more information about AEMC or other products, click here to go to Utility Products' Buyers Guide.