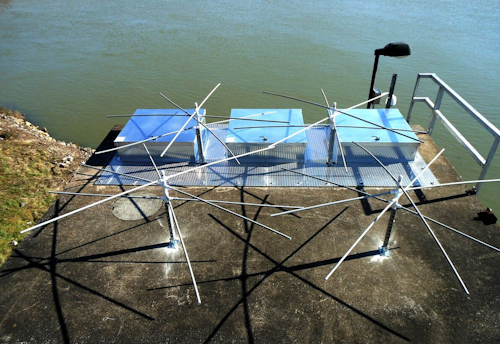 Safety products: Wildlife will surprise you every day and none more than the Osprey. They will nest almost anywhere that is open and high and gives them plenty of space to move around. That is fine, until they nest on an important piece of equipment or structure that companies need to have access to for maintenance. Once the Ospreys stake out their claim, it is very difficult to convince them that there are better places to nest and they return to the same spot year after year.
With Ospreys being about as stubborn as a bull, the only way to evict them is to force them to find a natural nesting site by using "OFF"-Sprey Raptor Deterrents. In the past, the Loudon Water Board have had to argue with Ospreys every year and decided that this year, before the spring nesting season, to have "OFF"-Sprey Raptor Deterrents installed on the roof of their water intake structure. Four, four arm (OG4/ "OFF"-Sprey Guard Multiple Install (OG4X4) were used to take up all the available space the claustrophobic birds need to build their nests.
This same process can be used on almost any structure that Ospreys use. The key to winning this battle is best if you install before the nest is built, or if you notice a nest being built and before it becomes occupied. Once occupied and eggs are laid, you can no longer remove the nest without contacting the local wildlife officials and get approval. The Federal Migratory Bird Act protects the birds once they have laid eggs and charges a hefty fine if you do not comply. By installing the "OFF"-Sprey Raptor Deterrent, both the utilities and the Ospreys come out winners.
Visit the "OFF"- Sprey Raptor Deterrent (www.offsprey.com), FaceBook page (www.facebook.com/off.sprey.deterrent) , Twitter (www.twitter.com/OffSprey) or on our YouTube Channel (www.youtube.com/channel/UC-oJdoiEk4fCombT6xlGNqA ) .
For more information or to place an order for The "OFF" – Sprey Raptor Deterrent, contact Power Supply Company LLC (423)624-7330 www.offsprey.com
For more information about "OFF"-Sprey Raptor Deterrent or other products, click here to go to Utility Products' Buyers Guide.