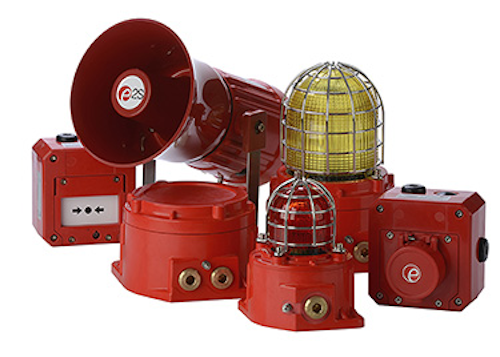 Utility safety: E2S Warning Signals, an independent manufacturer of audible and visual warning signals, will launch its new GNEx GRP Xenon strobe beacons March 29. The new products add visual signaling to the explosion proof and corrosion resistant GNEx family.
Suitable for all Zone 1, 2, 21 & 22 hazardous location applications the GNEx beacons have extended temperature range with IECEx and ATEX Ex d approvals. For high ambient light or long distance signaling the GNExB2 beacon is available in 10, 15 and 21 Joule variants producing up to 902cd - a very high output Xenon strobe. The smaller sized GNExB1 is available for where a 5 Joule (up to 117cd) unit meets requirements.
Three flash patterns and second stage, set by user, are a standard feature with all GNEx beacons, depending on base model and power (DC or AC) supply. On-site removal and replacement of the lens filter, such as for color changes, is simple. Polycarbonate, UV stable lenses are available in Amber, Blue, Clear, Green, Magenta, Red and Yellow as separate spare parts. Installation time is minimized by design with the GRP enclosure featuring a threaded flame path, multiple cable entries and a large termination area.
Complementing the GNEx range is the GNExJ2 Ex d junction box, which, having multiple cable entries and terminal configurations means suitability for many other applications. Both 15 and 21 Joule versions can be supplied as a plate mounted assembly configured with up to four Xenon strobe beacons with a junction box or five beacons without a junction box. The new Xenon strobe beacon visual signals broaden the GNEx family which includes alarm horn sounders, PA loudspeakers and manual call points for activation of fire alarms, gas detection and emergency shutdown systems.

For more information about E2S Warning Signalsor other products, click here to go to Utility Products' Buyers Guide.