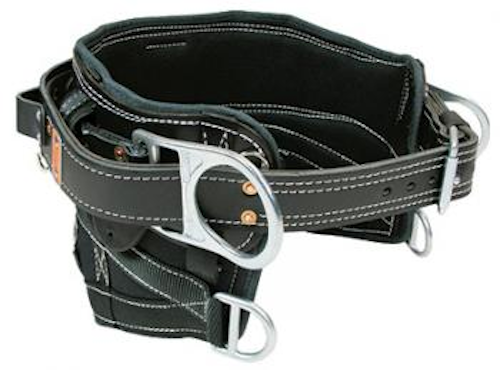 Lineman safety: Hi-Line Utility Supply's ergonomic, contoured design allows this tool belt to be worn comfortably and correctly, without compromising safety.
• Dramatically improves "on the pole" comfort.
• Provides lower abdomen support, reducing leg discomfort and numbness.
• Unique "seat" built into the cushion that supports and gives never seen before comfort.
• Available with a nylon or leather cushion.
• Four D-rings allows the lineman to take full advantage of the newer, advanced fall restraint products.
• The lower D-rings are for your fall restraint device while the upper D-Rings are for a pole strap or secondary lanyard. Ample space is provided between the upper and lower D-rings to reduce any confusion.
For more information about Hi-Line or other products, click here to go to Utility Products' Buyers Guide.