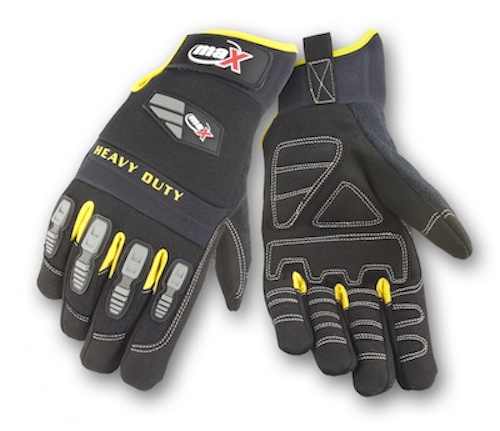 Galeton's maX HD work gloves feature neoprene and rubber protection points at the knuckle and palm for extra protection and lower risk of impact injuries. Spandex finger crotches provide ease of movement and ventilation. The durable gloves also feature a neoprene cuff, synthetic leather palms, a terry brow-wipe and adjustable cinch strap wrist.

Black and yellow in color, Galeton's maX HD safety gloves are available in sizes Medium through 2XL.

Since 1908, Galeton has been a leading supplier of fine quality gloves and work gear at great prices for manufacturing, commercial industry, construction, contractors, as well as federal, state and local government facilities. Built around its catalog, website, unique product line, and legendary customer service, the company continues to expand to meet the growing needs of its customers.

Not only does Galeton offer a wide variety of gloves ranging from premium quality to economy-line, but its 164 page catalog features a broad selection of exclusive brands and unique products. Their wide selection also includes high visibility work wear, disposable apparel, coveralls, safety glasses, work boots, fall protection gear, coats, hard hats, respiratory, hearing and face protection, as well as other personal protection and safety equipment items ­ all designed to help keep the worker safe, comfortable and productive on the job.

For more information about Galeton or other gloves, click here to go to Utility Products' Buyers Guide.