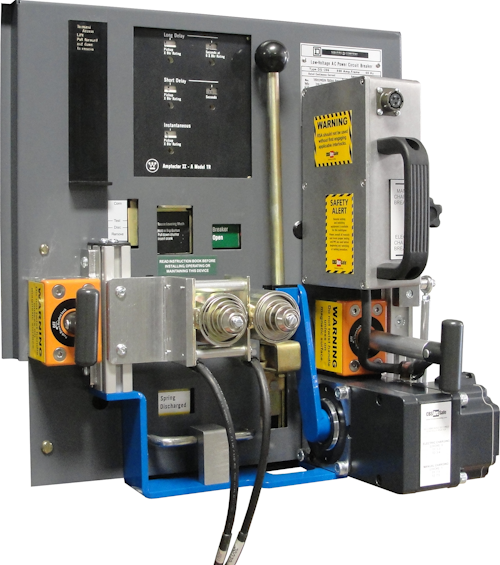 Denton, TX – Utility equipment: The CBS ArcSafe® RSA-12A is a custom-built remote switch actuator that remotely operates all styles of Westinghouse/Cutler-Hammer DS/DSL power circuit breakers. The RSA-12A is designed to operate on equipment with either manual or electric charging mechanisms and is compatible with all manufacturers and sizes of DS breakers without any modification to the breaker.
When accompanied by an applicable CBS ArcSafe® Remote Switch Operator (RSO) control unit, the RSA-12A provides remote CHARGE, CLOSE, and OPEN operation from up to 300 feet away from the equipment, reducing the need for bulky personal protective equipment (PPE) and virtually eliminating operator fatigue caused by manually operating the breaker while wearing heavy protective gear.
CBS ArcSafe® remote switch actuators are attached to the enclosure using strong magnets that ship with the unit and are specifically designed for the specific circuit breaker or switch. Each RSA-12A offers adjustable fittings and magnetic latching configurations that allow technicians to adapt to different configurations of the Westinghouse/Cutler-Hammer DS/DSL power circuit breakers without any modifications to the existing breaker or switchgear.
The RSA-12A is lightweight, portable, and ideal for remote operation in hard-to-access areas. Option features for the RS-12A include a radio remote with range of up to 150 feet, 24VDC LED light, wireless video camera system with LCD monitor for remote viewing, and Pelican case assembly. When combined together, these features make the RSA-12A easy to install and remove, allowing technicians to quickly and safely set up and operate different sets of the same electrical equipment.
About CBS ArcSafe:
CBS ArcSafe develops remote racking and switching systems for most all OEM-produced circuit breakers and switches. CBS ArcSafe's products allow technicians to be stationed up to 300 feet away during the potentially dangerous operation – virtually eliminating the possibility of injury or death resulting from an arc flash. All of CBS ArcSafe's products are manufactured in the USA at its Denton, TX, headquarters.
For more information about CBS or other products, click here to go to Utility Products' Buyers Guide.