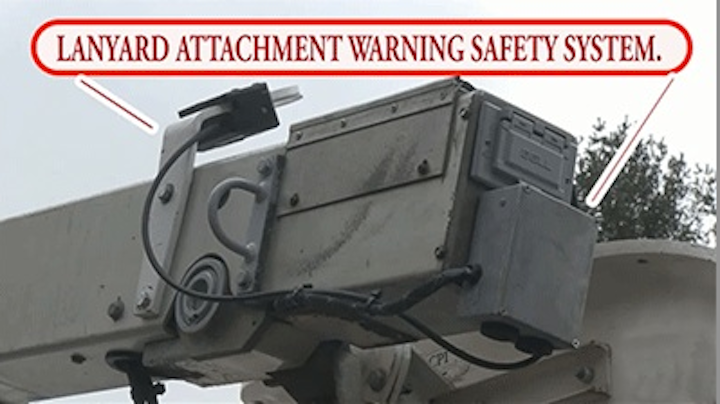 Hi-Line Utility Supply's Vert-Alert integrated warning system alerts operators of aerial lifts to attach their safety harness lanyard prior to elevating the lift. OSHA issued more than 8,500 citations in the past three years associated with improper use, or lack of use of fall protection equipment. Improve operator safety and OSHA compliance with the Vert-Alert, the world's only aerial lift lanyard safety attachment warning system.
• Lanyard Attachment Alert-If the safety harness is not attached to the provided anchorage, a high decibel verbal message states,"Warning, attach safety harness lanyard!" whenever the UP control is activated (optional feature will prevent the lift from being elevated).
• Descent Alert-When the DOWN control is activated, a high decibel verbal message alerts "Warning, lift descending!"
• Data Logging-To analyze safety performance, the system records when the alarm activates, as well as the date and time of connect and disconnects of the lanyard, and the number of up and down motions.
• The Vert-Alert is easily installed on new and existing equipment.
For more information about Hi-Line Utility Supply or other products, click here to go to Utility Products' Buyers Guide.