Larson Electronics Announces Addition of Explosion Proof Halogen Flashlight with Belt Clip
The EXPFL-41 Explosion Proof Halogen Flashlight carries Class 1, Division 1, approval and features rugged construction for long lasting durability and a handy belt clip for easy portability.
Jul 1st, 2013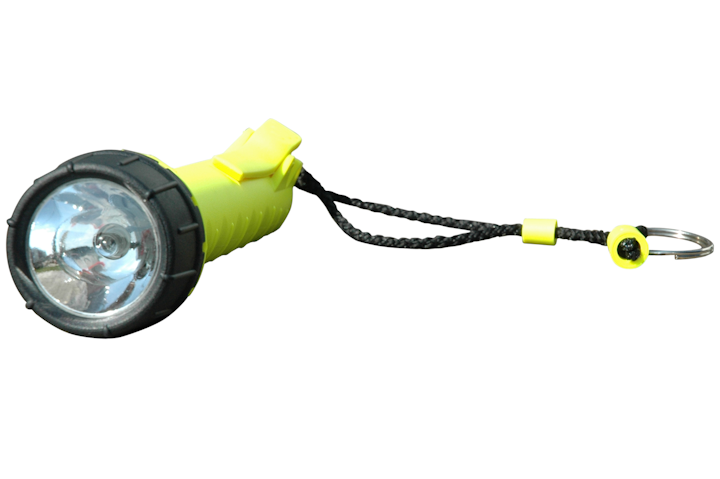 The EXPFL-41 explosion proof halogen flashlight from Larson Electronics is a compact yet effective portable light source that provides hazardous location protection in a rugged yet affordable design. Although light weight and small in size, this explosion proof flashlight packs a lot of value into its simple to operate design. This flashlight provides a surprising 50,000 candlepower of illumination for effective task lighting using an advanced XPR3 halogen bulb powered by three C-cell alkaline batteries. An integral circuit protection system prevents dangerous internal faults to provide HAZLOC protection. The body is formed of heavy duty polypropylene for rugged durability and the lamp assembly utilizes an Ultem 1000 reflector and unbreakable polycarbonate lens to produce a focused and effective beam. The entire unit is waterproof and rated to 100 feet of submersion, making it well suited to use in locations or environments where water and dampness can be an issue. The body of this industrial grade flashlight is fitted with a convenient belt clip which allows the user to clip the flashlight to just about any pocket, belt or waistband for easy carry. Also included is a lanyard that can be fitted around the wrist for added security against dropping, or used to hang the flashlight from overhead objects. This explosion proof is operated by a push button switch on the rear of the unit and a twist lens housing for simple on and off control. The housing also has an anti-roll design that prevents the light from rolling off flat surfaces when they are not level. Approvals for this explosion proof flashlight include Class 1 Division 1 & 2, Class 2 Division 2, and CSA Class 2 Division 2. This compact explosion proof flashlight is an ideal solution for operators in hazardous locations who like the convenience of an easily carried light source but don't want to break the bank in order to maintain compliance with HAZLOC regulations.
"The 3- also carries an MSHA rating making it ideal for mining applications," said Rob Bresnahan with LarsonElectronics.com. "Operators don't need two flashlights for different hazardous location areas, since this flashlight carries ratings for mine use as well as use in areas with flammable vapors and dusts."
For more information about Larson Electronics or any other product, click here to go to Utility Products' Buyers Guide.