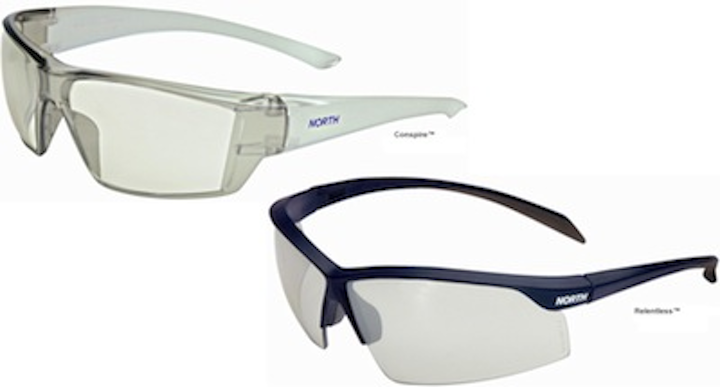 Smithfield, RI—Safety products: Honeywell Safety Products offers two new styles of protective eyewear, Conspire and Relentless. Both feature the exclusive new North Signature Fit profile, specially designed to comfortably fit at least 85% of wearers right out of the box without the need for advanced adjustments. Given their combined protective qualifications, lightweight design and adjustment-free fit, Conspire and Relentless deliver extreme value to safety managers by simplifying the safety eyewear purchasing process.

"Conspire and Relentless--our first eyewear styles to feature North Signature Fit--are designed based on years of anthropomorphic research in facial dimensions,"said Kevin Beckerdite, product marketing manager for eye and face protection, Honeywell Safety Products. "Their uniquely shaped and padded nosepieces and flexible temples are proven to provide the most comfortable fit across the widest range of facial profiles. That means grab-and-go convenience and unparalleled protection for safety managers and the workers they serve."

The North Conspire Series of safety eyewear features the exclusive North Signature Fit profile to ensure a simple, adjustment-free fit for the widest range of faces. Its lightweight, full-wrap design includes an eight-base, single front with dual lenses for unparalleled protection plus a shaped nosepiece and flexible temples for superb comfort. Conspire contains no metal parts for safe dielectric use. Lens tint options include Clear, TSR Gray, Amber, Silver Mirror, and Indoor/Outdoor Silver Mirror for use in nearly any lighting environment. Fog-Ban® anti-fog lenses are available in Clear and TSR Gray tints to provide optimal visual clarity in hot and humid environments. Conspire provides 99.9% ultraviolet protection and is certified to meet both the ANSI Z87.1+ standard for high-impact protection and the CSA Z94.3 standards.

The North Relentless Series also features North Signature Fit in a lightweight design that offers all-day, adjustment-free comfort. This style's eight-base polycarbonate lens and frame system offers wraparound protection while carefully shaped and padded nosepiece and temples maximize comfort. The dielectric style is safe for use in environments with electrical hazards. Five lens tint options including Clear, TSR Gray, Amber, Silver Mirror and Indoor/Outdoor Silver Mirror with anti-scratch hardcoat address the needs of most work environments, and Fog-Ban® coating is available on Clear and TSR Gray lenses. Relentless eyewear provides 99.9% ultraviolet protection and is certified to the requirements of the ANSI Z87.1-2010 and CSA Z94.3 standards.

The North Conspire and Relentless series of safety eyewear are available now through major safety equipment distributors in the Americas.

For more information about Honeywell Safety Products or other safety eyewear, click here to go to Utility Products' Buyers Guide.