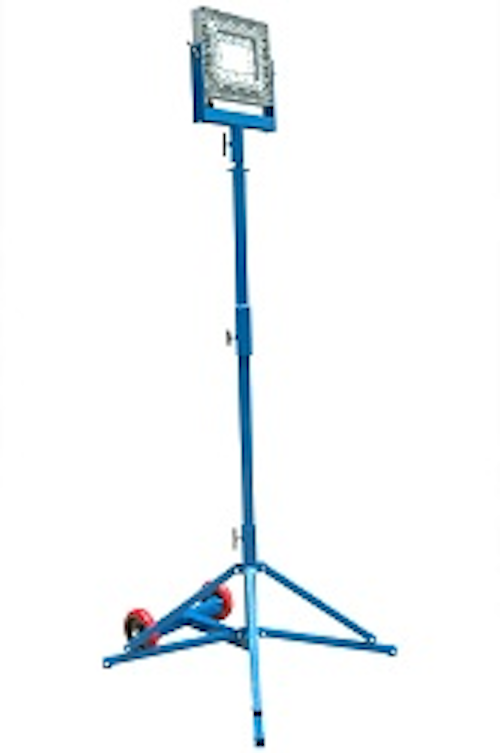 Safety equipment: Larson Electronics has announced a new portable LED light tower designed to provide the performance of LED lighting technology in a HAZLOC compliant design. The EPLC2-QP-1X150LED-100 Explosion Proof LED Light Tower from Larson Electronics is rated Class 2 Division 1 Groups C and D and produces 12,000 lumens with 12 feet of possible elevation.
The EPLC2-QP-1X150LED-100 explosion proof LED light tower provides high quality light output in a hazardous location compliant design and the ability to elevate the lamp assembly up to 12 feet of height for maximum coverage. Featuring a 150 watt LED lamp head, this portable light tower produces more light than a 500 watt halogen lamp while using only a fraction as much energy, runs far cooler, and produces brilliant white light with none of the yellowing or beam artifacts common to halogen lamps. The LED light fixture produces light in a wide flood pattern and features aluminum construction, 12,000 lumen output, 60,000 hour service life, and a color temperature of 6000k. The tower is a four leg quadpod design with a pair of solid rubber wheels on the base for superior stability and easy maneuvering, and is constructed of non sparking aluminum for high strength and light weight. The tower is comprised of four parts including a removable lamp assembly, two mast sections, and a four leg base with folding legs, which allows this tower to be easily broken down into a more compact form for easier transport. The tower can be assembled and disassembled without tools and can be extended to 12 feet and collapsed to 4 feet depending on the operators needs. The lamp assembly is adjustable and provides 360 degrees of rotation and 90 degrees of tilt for more precise beam control. This LED light tower operates with standard 120-277 VAC voltage and is fitted with 100 feet of SOOW cord ending in an explosion proof plug for ample working length and secure connections. Approvals for this light tower include Class 1 Division 2, Class 2, Division 1 & 2, and UL certification according to US standards. This explosion proof light tower is ideal for large work spaces where flammable or explosive gases and vapors may be encountered and provides and ideal alternative to fragile and hot running incandescent and HID light towers.
"The EPLC2-QP-1X150LED-100 is an alternative to 400 watt metal halide explosion proof lighting," said Rob Bresnahan with LarsonElectronics.com. "This elevated Class 2 Division 1 LED light provides exceptionally bright area lighting for operators in confined spaces or open areas. The elevated positioning of the lights enables multiple operators to work without creating shadows."
For more information about Larson Electronics or other products, click here to go to Utility Products' Buyers Guide.