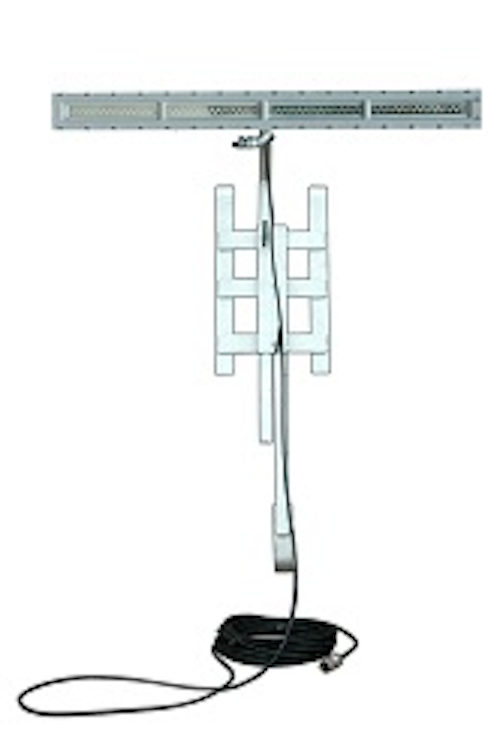 Safety equipment: The versatile EPL-JHLP-100LED bracket mounted explosion proof LED fixture from Larson Electronics is an explosion proof LED light fixture designed to provide operators in hazardous locations with an easy to mount and operate lighting system capable of illuminating large work spaces. This portable explosion proof lighting system features a powerful weatherproof LED lamp assembly producing 7,000 lumens of light output at 100 watts, an adjustable lamp yoke, and an aluminum bracket that allows mounting to scaffolds, ladders, railings, and similar structures.
The LED lamp is constructed of copper free aluminum with a powder coat finish and an aluminum finish reflector. The lens is thermal shock and impact resistant tempered glass and the housing contains threaded joints lubricated with non-drying lubricant. The mounting bracket is a ³J-hook² design with 26 inches to 43 inches of adjustment to allow mounting to a wide variety of railings, scaffoldings or ladders and is constructed of non sparking aluminum as well.
A pivoting bracket connects the lamp assembly to the J-bracket and allows the operator to easily adjust the lamp vertically and horizontally for the best coverage of the targeted area. This LED work light is ideal for large work spaces and a better choice for operators who need to work near the lamp as it is far more durable and cooler running than halogen or HID work lights. With this LED work light, operators can actually touch and handle the assembly while it¹s in operating without getting burned, and accidental impacts or dropping won't result in instantly shattered bulbs or burned out filaments. This explosion proof LED light operates with standard 110-277 VAC current and includes 100 feet of heavy duty SOOW cord ending an a 1523 explosion proof plug for ample working length and safe connections.
The entire system is IP66 rated waterproof, approved for marine and wet area use, can certified for use in Class 1 Divisions 1 & 2, Groups C & D, and Class 2 Division 1 & 2, Groups E, F, G hazardous locations.
For more information about Larson Electronics other products, click here to go to Utility Products' Buyers guide.