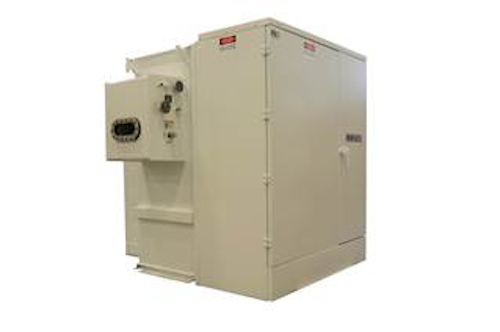 WAUKESHA, WI -- Power management company Eaton announced that its Cooper Power Systems division has launched an external visible loadbreak solution for medium voltage transformers. The new option is designed to provide visible verification of an electrical circuit's disconnect and grounding, resulting in enhanced safety and reduced maintenance and operating costs.

"Nearly every maintenance procedure on a transformer requires manually entering the live compartment and wearing protective equipment in order to ensure the circuit is properly isolated," said Jack Moore, associate global product director, Substation and Underground Transformers, Eaton's Cooper Power Systems division. "This solution is one of the first options in the U.S. that allows for verification externally, through the use of a clear viewing window."

Mounted on the side of the transformer and away from live circuits, the visible loadbreak switchbox includes a large viewing window for quick verification; rotary handle for operating the isolating contacts; and padlocked covers on the switch and window. In addition, the on/off/ground functionality allows the end user to internally ground the transformer windings to the tank, utilizing the loadbreak switch.

For added convenience, time savings and safety, this transformer option can also be specified with external, tamper-proof gauges.

The visible loadbreak technology is available for applications from 0.5 to 3 Megavolt Ampere (MVA) and a voltage class of 15 to 35 kilovolt (kV). Because of the plethora of medium voltage transformer applications, the new solution can be utilized in almost any market.
For more information about Cooper Power or other products, click here to go to Utility Products' Buyers Guide.