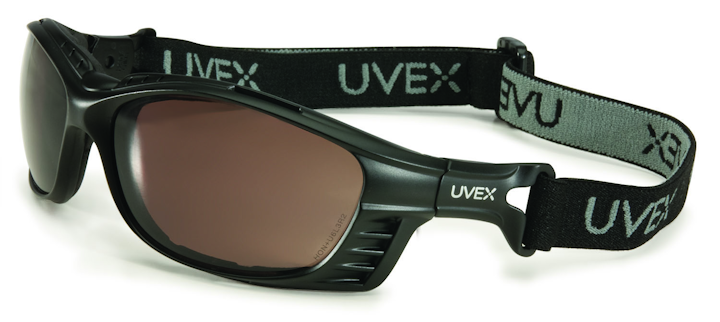 Smithfield, RI – Utility safety: Honeywell (NYSE: HON) launched Uvex Livewire sealed eyewear for extreme, high-particulate environments. Based on extensive research and fit-testing, the Uvex Livewire precision-engineered frame ensures a superior, gap-free fit that seals out debris, while the high-performance Uvextreme® Plus coating delivers 10 times longer anti-fog protection and two times better scratch resistance than other anti-fog coated lenses. Uvex Livewire is designed to deliver exceptional durability, performance, fit and protection to keep workers safe in the harshest conditions.
"Extensive customer research indicated that finding safety eyewear that stands up in extreme environments is still a big challenge for safety managers and workers alike," said David Iannelli, senior product manager for Honeywell Safety Products. "That's why we developed Uvex Livewire sealed eyewear, which not only protects from all manner of debris but also extreme wind, sun, heat and humidity. With innovations from lens to frame, Uvex Livewire is engineered for the extreme."
Uvex Livewire lenses feature proprietary Uvextreme Plus anti-fog coating for superior protection that lasts up to 10 times longer than other anti-fog coated lenses, even after extended wear and repeated washing, as well as two times better scratch-resistance than competitive anti-fog coated products for longer lasting lenses. The style is also available with Dura-streme® technology that combines Uvextreme® anti-fog coating on the interior and Ultra-dura® anti-scratch coating on the exterior, for up to three times longer lens life.
The versatile new sealed eyewear can be worn with easy-to-exchange temples or a headband to ensure a secure, sealed fit across applications. A comfortable, custom fit is further delivered through Uvex Livewire¹s foam subframe, whose smooth surface and density minimize pressure, and an adjustable, latex-free, flame-resistant cloth headband. Padded temples provide ideal tension and flex, and one-of-a-kind ratcheting temples adjust the lens angle by up to 15 degrees for optimal coverage and air circulation. Precise placement of top and side channels in the frame allow for optimal venting to enhance anti-fog performance while keeping dust and debris out. The style¹s streamlined, wraparound design enhances line of sight and accommodates respirators and other PPE, while its low-profile temples fit comfortably with earmuffs.
Uvex Livewire is available in nine specialized lens tints ­ Clear, Amber, Espresso, Gray, SCT-Reflect 50, SCT-Gray, SCT-Low IR, Shade 3.0 and Shade 5.0 ­ to perform in nearly any lighting conditions. Frame options include two colors, Matte Black and Silver, and 6-base and 8-base prescription safety frames are available to accommodate workers who require vision correction. The style is 100% dielectric for safe wear in environments where electrical hazards exist. Uvex Livewire meets the ANSI Z87.1-2010 standard as well as the CSA Z94.3 standard, and its lenses provide 99.99% UV protection.
Uvex Livewire sealed eyewear is available now through major safety equipment distributors in the Americas. Contact the Honeywell Safety Products customer care department at 800-430-5490 for more information about Uvex Livewire eyewear and where it may be purchased. Uvex brand safety eyewear is offered for sale by Honeywell Safety Products exclusively in the Americas. More information about the complete family of Uvex safety eyewear is available at www.uvex.us.
For more information about Honeywell Safety Products or other products, click here to go to Utility Products' Buyers Guide.