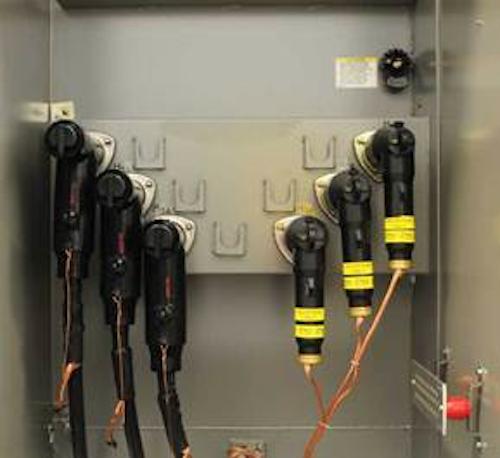 Waukesha, WI -- Power management company Eaton announced that its Cooper Power Systems division has launched a complete 35 kilovolt (kV) 200 kV basic impulse level (BIL) deadbreak connector system. The new system helps eliminate weak links in medium voltage collection and enhances collector reliability, safety and longevity. It is ideal for medium voltage collector systems (MVCS) on large underground circuits, such as wind and solar farms.

"Weak links pose a major threat to renewable energy systems, potentially causing downtime that could result in lost productivity," said Chris Decker, global product manager, Eaton's Cooper Power Systems division. "The new system is designed to address these weak links and enable the collector system to operate at full strength, increasing overall system efficiency and reliability."

Implementing a fully rated, medium voltage collector system at 200 kV BIL increases the protection against damaging overvoltages and reduces the impact of high-voltage transient events. In comparison to live-front systems, the deadbreak system also helps enhance safety and reduce the overall footprint.
Ideal for renewable energy, data center, mining and oil and gas applications, the complete system now comes equipped to terminate the underground cable and equipment, including tee bodies, insulating plugs, reducing tap plugs and transformer bushings.

For more information about Cooper Power or other products, click here to go to Utility Products' Buyers Guide.