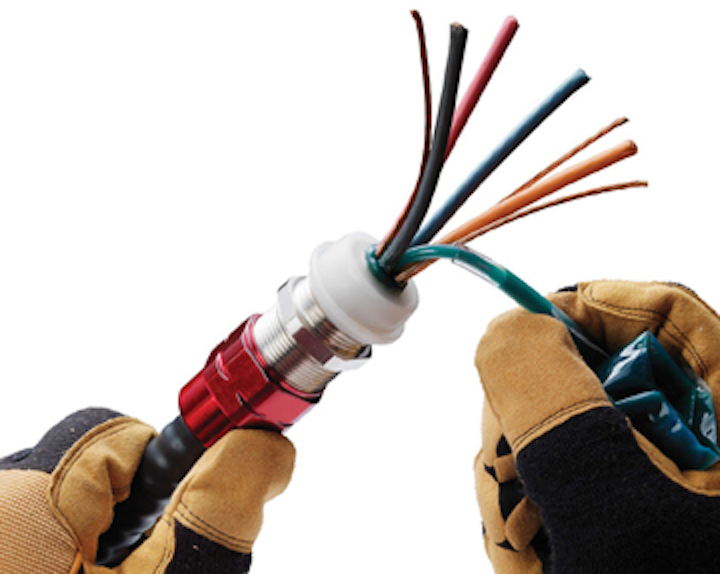 ROSEMONT, IL – Safety products: Proper installation of barrier-style cable glands is essential for the safety of power and control wiring systems in hazardous industrial locations. Traditional barrier systems use an epoxy/clay compound that must be thoroughly mixed and carefully packed to ensure a complete seal with no gaps or voids for explosive vapors to escape through. Next, the compound must be allowed to cure for up to 24 hours before the cable gland can be installed, translating into a full day of lost productivity.
To speed up the process without compromising safety, Appleton offers its TMC2X cable gland. The gland represents a safer, faster and more cost-efficient way to connect jacketed metal clad electrical cables in hazardous locations, and comes complete with RapidEx high-speed liquid resin sealing compound that applies easily and sets within minutes, displacing any air while creating a reliable seal with no gaps or voids. Once cured, RapidEX adheres reliably for the life of the cable gland with no cracking or shrinking no matter what the temperature, resulting in faster installations, safer facilities and lower maintenance expense.
When used with Appleton TMC2X cable glands, the RapidEx liquid resin gel, developed by CMP Products, typically cures in 20 - 100 minutes depending on ambient conditions. The faster curing speed of the gel system means that cables can typically be terminated the same day they are installed.
Appleton TMC2X cable glands are rated for hazardous areas including explosion-proof and dust-ignition proof applications such as petrochemical plants. They securely terminate interlocked /corrugated aluminum or steel armor jacketed metal clad cables (Type MC/MC-HL), and continuous welded armor cables (Type CLX or TECK) to form mechanical watertight connections, while also providing excellent ground continuity for cable armor. These types of cables are increasingly being installed as service, feeder, and branch circuit cables for lighting, power, control, and signaling circuits.
The TMC2X requires no disassembly and features a simplified two-piece design that allows the contractor to ground the armor and seal the outer jacket in one action. The integral "O" ring face seal achieves 4X and IP68 rated protection in corrosive, wet locations, such as a marina, outdoor parking structure or paper manufacturing plant.
Appleton TMC2X cable glands are available in trade sizes from 1/2-inch to 4-inches with multiple cable O.D. ranges per hub size in either copper-free aluminum, nickle-plated brass or stainless steel construction.
For more information about Appleton or other products, click here to go to Utility Products' Buyers Guide.