Utility safety: High intensity LED blasting light
Safety lighting: Magnalight.com releases high intensity LED blasting light to replace 400W metal halides.
Jul 24th, 2013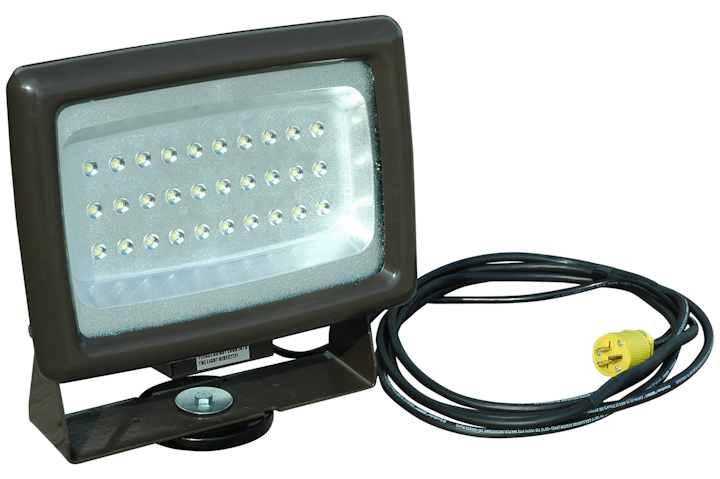 Utility equipment: Larson Electronics Magnalight has announced the addition of a high performance LED blasting light with magnetic mounting base. Designed to provide high output from a small form factor and easily attached to metallic surfaces, the BLWP-60LED LED Blasting Light is ideal for operations where cumbersome tripod or platform work lights are impractical.
The BLWP-60LED LED blasting light is for applications where high power illumination from a compact fixture with versatile mounting capabilities is desired. This powerful blasting light is designed to allow operators to mount the light to any surface constructed of steel, iron, or any material that will accept a magnet, and will stay in place even under heavy vibration and movement. This magnetic work light features a heavy duty aluminum housing that has been powder coated for added durability, shatterproof polycarbonate lens, thirty 3 watt LEDs for high lumen output, and a 200 lbs grip magnetic base to provide secure mounting to metallic surfaces under high vibration conditions. Operators can attach this unit directly to machinery and equipment without worrying about the unit slipping or shifting position while working. The waterproof housing allows operation in wet conditions, and the 5,000 lumen output provides a brilliant beam capable cutting through the dust and debris of blasting operations. This light is compact in size and uses only 75 watts, yet produces output rivaling 400 watt metal halide lights, making it less obtrusive and far more efficient. The 200 lbs grip magnetic base is attached with a stainless steel trunnion bracket that allows vertical adjustment of the light once positioned. Power for this light is supplied through an included 12 feet of heavy duty cord with straight blade plug and the unit can operate with standard 120-277 VAC current. This light is IP68 rated waterproof, vapor proof, and designed to withstand the abusive conditions found in media blasting applications as well industrial manufacturing and shipyard operations.
For more information about Larson Electronics or other products, click here to go to Utility Products' Buyers Guide.