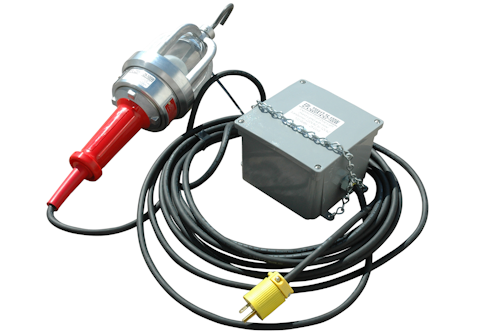 Utility safety: Larson Electronics has announced the release of an explosion proof LED drop light offering low voltage operation and the ability to operate with 230 VAC electrical current. The EHL-LED-230X24LV-300 Explosion Proof Hand Lamp is built for power and durability and offers the cool operation and high output of LED technology combined with long cord reach and international 230 VAC operating capability.
The Larson Electronics EHL-LED-230X24LV-300 explosion proof LED hand lamp provides operators with an ideal alternative to common incandescent and fluorescent drop lights that runs cooler, lasts longer, and is more efficient, and more durable. This low voltage work light is designed similarly to common drop lights and runs on low voltage 12 or 24 volt current supplied by an inline transformer.
Key features for this LED drop light include a high output LED lamp that provides better light quality and higher output than comparable incandescent bulbs and an inline transformer that allows operation with the standard 230 VAC current commonly used outside of North America. The LED lamp in this unit produces 3 times the foot candles at 5 feet as a 100 watt incandescent yet used a fraction the amount of power. This lamp also runs much cooler, reducing the chances of accidental burns, and is impervious to shattering and blowouts that occur when a typical incandescent work light is dropped

This explosion proof drop light is designed for rugged use with an aluminum lamp body and globe guard, impact resistant bulb cover, and rubber housing bumpers for added protection against impacts. Also included with this lamp is an extra long 300 feet of SOOW cord to provide ample length for moving about larger work areas. This cord comes without an attached plug to allow operators to fit their own plugs according to the design of outlets in their particular region. A step down transformer is fitted inline with the cord and operates from 230 VAC current for compatibility with European and non U.S. standard voltages.
This LED work light is designed for use in hazardous locations and carries approvals for use in areas designated as Class 1 Division 2 Groups F and G and Class 1 Division 1 Groups C and D. This LED work light is ideal for operators who need a 230 VAC compatible work light that offers high durability and cooler operation and provides better output and light color quality than is available with standard incandescent work lights.
"The EPL-230X24LV-300 is a new addition to our group of string lights; this drop light gives operators the ability to step down 230 to 24VDC to provide low voltage lighting up to 300' away from power sources," said Rob Bresnahan with Larson Electronics' Magnalight.com. "This Class 1 & 2 Division 1 & 2 explosion proof hand light provides portable light within classified locations that require low voltage."
For more information about Larson Electronics or other products, click here to go to Utility Products' Buyers Guide.