Safety lighting: LEDioc LED retrofit lamps from EYE Lighting
Safety lighting: LEDioc LED retrofit lamps from EYE Lighting
Jul 17th, 2013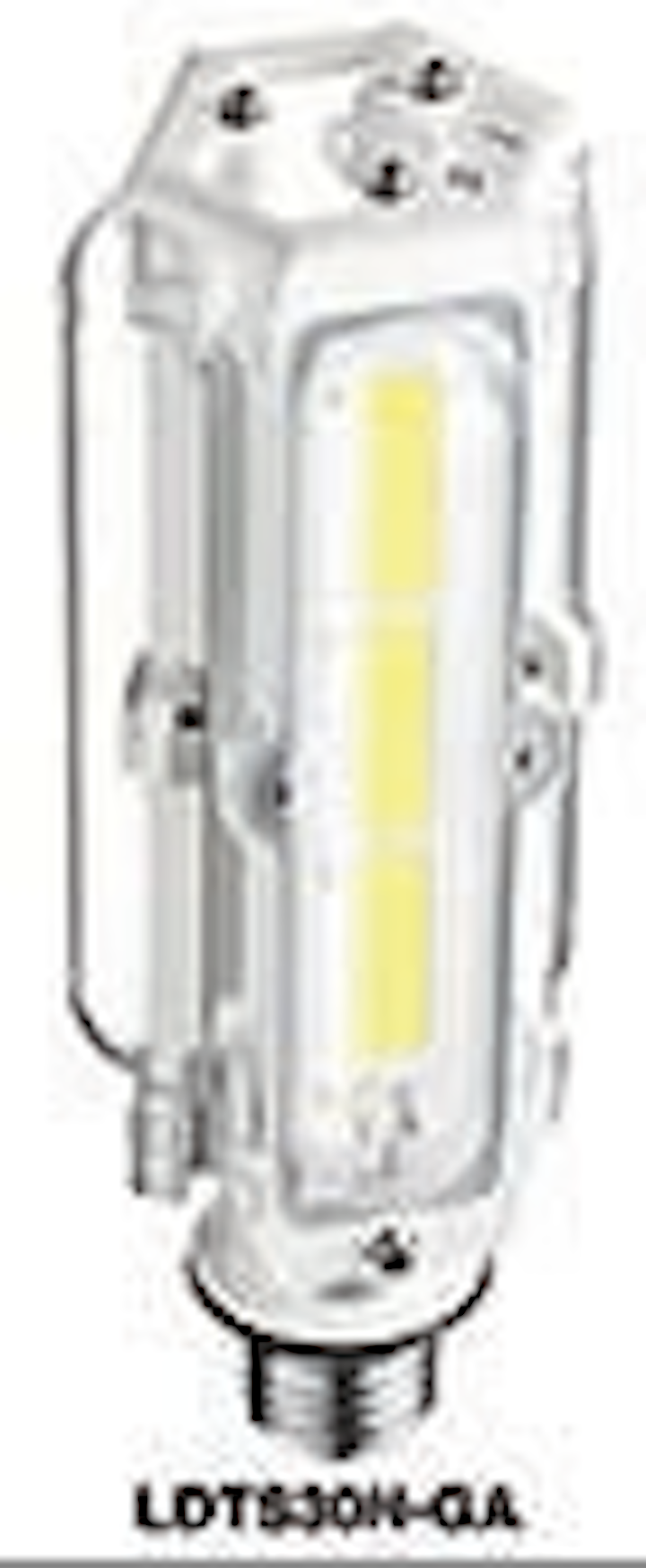 Mentor, Ohio -- Safety products: EYE Lighting International, a manufacturer of lamps, luminaires, controls and related lighting products, has announced the new LEDioc brand lamps, designed for simple and easy field retrofit from an HID to LED light source in post-top and pendant luminaires. EYE estimates there are more than 2 million luminaires of these types in service in the USA, with hundreds of thousands annually requiring retrofit.
The 37-watt EYE LEDioc lamp, consuming only 42 system watts, comes complete with a driver and surge protector, and can be applied in 120V through 277V systems. The 5000K model provides 4,400 initial lumens, 70 CRI, and 106 lumens per watt. The 3000K model provides 3100 initial lumens, 85 CRI, and 75 lumens per watt. Both feature 70% lumen maintenance at 50,000 hours of life.
Facility managers in cities, municipalities, utilities, campuses and office parks who are changing to bright, white light for safety and security -- and need to meet sustainability goals, reduce energy use and virtually eliminate maintenance --will find the EYE LEDioc lamp a cost-effective solution. EYE provides a 5-year warranty with the LEDioc system.
EYE Lighting International, with over 100,000 square feet of manufacturing space located near Cleveland, Ohio, is a leading provider of lamps, luminaires, controls, and related lighting products. For 21 years, the company has pioneered High-Intensity-Discharge lamp technology and introduced innovative luminaires to lighting designers, specifiers, and utility market customers.
EYE Lighting high performance products have earned a global reputation for excellent color rendering, long-life, reliability, and superior quality testimony to its multiple ISO Certifications, including an ISO 17025 accredited lab.
For more information about EYE Lighting or other products, click here to go to Utility Products' Buyers Guide.