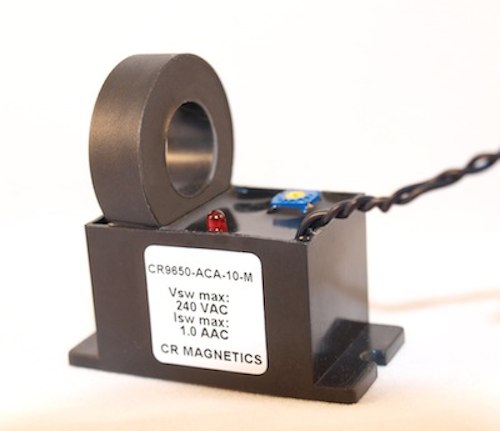 St. Louis, Mo., March 23, 2011—CR Magnetics Inc. has introduced the CR9600 Series adjustable current switches specifically designed for applications that require an on-off indication of current flow. The key features of the new current switches feature low cost, self-powering, adjustable set points, LED visual switch indication and reverse output polarity protection.
Major performance benefits are lower losses, improved lifetime durability, increased ruggedness and heat capacity. The CR Magnetics CR9600 Series adjustable current switches are available with a NPN or PNP output transistor for dc switching and ACA output for switching ac. Continuous operating current above the full ON level of 1.0 AAC Is required.
The CR9600 current switches are intended for power monitoring applications of continuity and use as a proving switch. The switches have window openings of: 0.27 inch, 0.59 inch, and 0.40 inch dia. Overall casing sizes are from: 1.75 inch W. x 1.88 inch H. x 1.95 inch L. Terminals are pre-wired for connection to instrumentation.