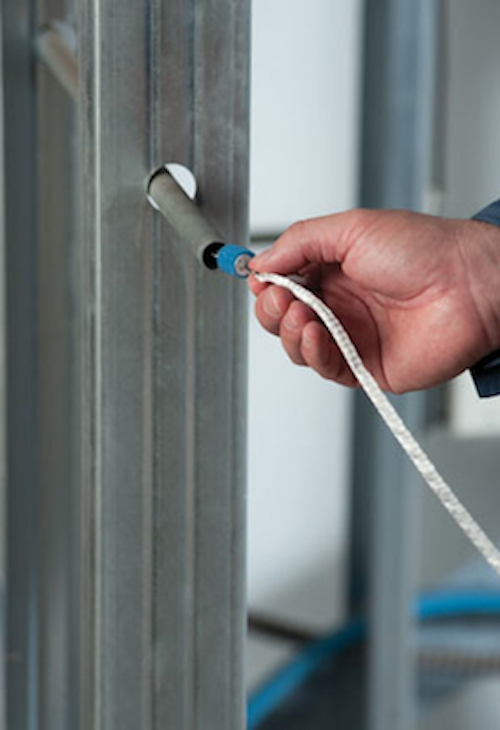 Sycamore, Ill., March 24, 2011—IDEAL offers a solution that greatly reduces cable installation time on premise jobs by up to 50 percent, while also eliminating damage to underground plants and improving worker safety.

New IDEAL 3-in-1 Premise MULETAPE combines threading line, measuring tape and winch line, allowing an installer to thread, measure and pull all types of cable with a single, super-strong product. There is no more need for proofing with poly line or pulling with string/rope combinations. Plus, because it is imprinted with sequential footage markings, the installer is not required to go back and manually calculate the needed length of cable. It all means fewer steps in the installation process, significant material and labor cost savings, and fewer products shipped to the job site.

"Pulling cable into conduit is not only time-intensive but can result in costly damage to ducts," said Bruce Hartranft, product manager for IDEAL. "Our 3-in-1 Premise MULETAPE solves all those problems, quickly and easily."

IDEAL 3-in-1 Premise MULETAPE comes pre-lubricated to reduce friction levels and to eliminate the potential for duct cutting. Its lower elongation reduces pulling time while improving safety for workers by doing away with cable "snap-back" that could result in the installer losing their balance.

IDEAL 3-in-1 Premise MULETAPE is very lightweight to allow it to be easily blown through conduit or inner duct. It is manufactured in the USA and is currently available in two types: #31-315 (1300 feet in length, rated at 1800 lbs of pulling strength) and #31-314 (4500 feet in length, rated at 400 lbs of pulling strength).