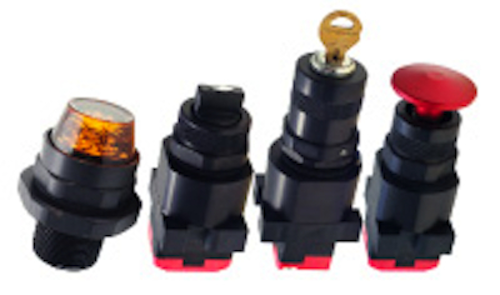 Cleveland, March 31, 2011—Adalet has introduced a line of stainless steel 316L increased safety control station enclosures designed to house Adalet increased safety rated operators. The new CSC4X6 enclosures are IECEx and ATEX certified to house terminal blocks and operators in worldwide Exe rated Zone 1 and U.S. Division 2 hazardous locations.

Ten standard designs make up the CSC4X6 line of stainless steel 316L control station enclosures, ranging from 1 hole to 16 holes. Design configurations include in-line options for 1 to 4 holes as well as larger enclosures for 2 x 2 up to 4 x 4 designs. Custom sizes and drilling configurations are available up to 24" x 24". The enclosures feature a continuous one-piece silicone gasket, which provides an IP66 ingress rating for dust-tight and water-tight locations. Operator entry openings are designed to house Adalet's standard 30mm line of increased safety pushbuttons, pilot lights and selector switches.

Adalet's increased safety rated operators are for use in control circuits functioning in Zone 1 or U.S. Division 2 rated environments. These heavy-duty operators are suitable for use in hazardous or corrosive atmospheres and are watertight for NEMA 4 applications. Adalet's Exe pilot devices are ATEX certified for European applications, IECEx for global applications, and AEXe for U.S. as stand alone devices or when installed in an Exe certified increased safety enclosure. The devices are designed to fit into a standard 30mm opening and are constructed from for rugged, industrial applications. Various contact block arrangements are available for pushbuttons and selector switches and various color LED bulbs and voltages are available for pilot lights.

- Pilot lights offer various voltages and LED colors to choose from,
- Various colors and contact block arrangements for pushbuttons and selector switches,
- Rugged aluminum construction for industrial and hazardous areas,
- Worldwide approvals include North American, ATEX and IECEx, and
- In stock and ready for immediate shipment.