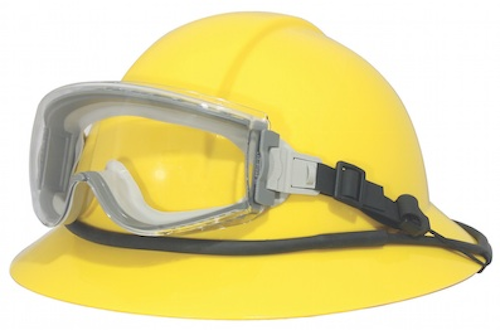 Smithfield, R.I.—Honeywell Safety Products (HSP), a personal protective equipment (PPE) company, has introduced the Uvex Stealth goggle retainer for hard hats. Designed to attach flawlessly to most hard hats, the goggle retainer helps ensure workers' eyes are protected by creating a proper, gap-free seal around the eyes. With its easy-to-use design and high level of adjustability, the Uvex Stealth goggle retainer enables workers to achieve a comfortable, secure fit whenever goggles and hard hats are required in combination. When not in use, Uvex Stealth goggles are held securely to the hard hat, keeping them close at hand and further improving worker safety.

"The Uvex Stealth goggle retainer simplifies combination use among workers, which has proven challenging in the past. Now workers can focus on their jobs, knowing their goggles are always close at hand and a proper, comfortable fit is quick and easy. That means improved compliance and a safer workforce," said Kevin Beckerdite, product manager for eye and face protection products for Honeywell Safety Products. "We are pleased to deliver this innovative solution which allows workers to experience the comfort and safety of North America's best-selling goggle even while wearing a hard hat-and contributes to an organization's overall culture of safety."

The goggle retainer features innovations to address safety, comfort and value. Its neoprene straps are easy to adjust-even while worn-to quickly provide a safe, secure and comfortable fit. The retainer's durable materials resist chemical and ultraviolet degradation for long-lasting wear. The accessory is available in two models to fit standard, cap-style hard hats and full-brim hard hats.