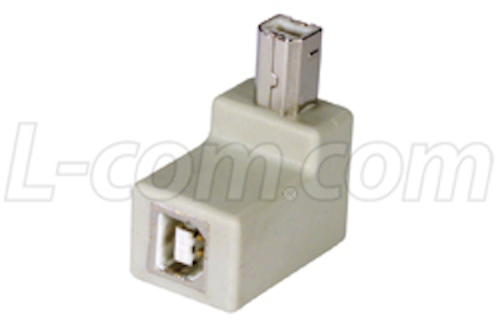 North Andover, Mass.—L-com Inc., a manufacturer of wired and wireless connectivity products, has introduced new right-angle USB adapters featuring USB type B male to female connectors and USB type mini-B5 male to female connectors. The new adapters allow cables to plug into USB type B and mini-B5 jacks and cables at right angles without causing damaging bends in the cable.

These right angle adapters follow other recent angled USB products including right-angled USB 2.0 cables, right-angle USB type A adapters, and USB A flexible adapters. Like previous adapter types, the new adapters come in two "exit" styles, allowing the right angle to bend in either direction relative to the connector they are plugged into. The type B adapters use 20 AWG power leads providing maximum power transfer, and both styles use 30 micro inch gold contact plating to endure repeated plugging and unplugging of the cable.

"We are finding that strain on cables from bending to fit in tight spaces is an increasing problem," said Steve Smith, Product Manager. "These adapters are more and more in demand as customers combat this issue."

These adapters will be stocked in North America for same-day shipment on orders. They will come molded in PVC and will be 100 percent shielded to protect from EMI/RFI. Engineering drawings and 3D CAD models will be available for free on the L-com web site.
For more information about L-com or other USB adapters, click here to go to Utility Products' Buyers Guide.