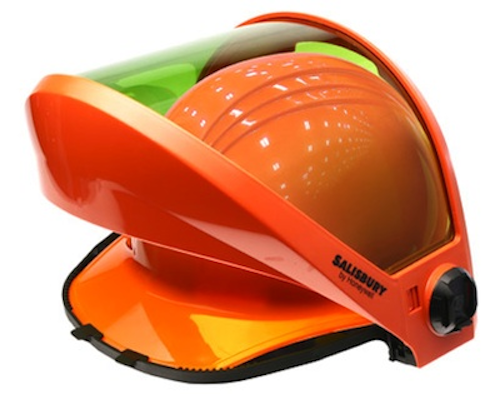 Salisbury by Honeywell's new AS1200U is a weight balancing arc flash protection faceshield that fits all popular front brim hard hats regardless of the manufacturer. Many faceshields are large and bulky, and, when lifted off the face, extend far above the user's head—creating hazards and accidents. Salisbury's shield lifts and locks in a comfortable and compact position close to the head. When the shield is lifted, it sits balanced and centered on the user's head and does not fall loosely back down when not needed.

The AS1200U assembly attaches to the front brim hard hat with an elastomeric band and front brim clips that secure the bracket onto the brim. All parts are dielectric and specifically designed for arc flash protection.

The AS1200U has an ATPV rating of 12cal/cm2 (NFPA 70E HRC 2) and utilizes nanotechnology and a fog reduction coating, to provide a clearer, more transparent window for improved visibility. The faceshield unit includes an upper bracket ventilation feature that allows a natural airflow through the top of the face shield. This reduces fogging of the visor, lowers CO2 levels and improves comfort for the user.

For more information about Salisbury by Honeywell or other arc flash protection, click here to go to Utility Products' Buyers Guide.