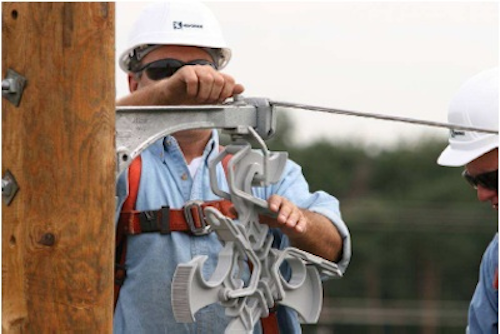 Milford, N.H.—Hendrix, a provider of high quality overhead and underground power distribution products, announces its spacer cable turnkey services, which save utilities money and time and are guaranteed to reduce outages. Utilities can contract with Hendrix for full turnkey services from site evaluation to final inspection, or for any portion of a project.

Hendrix's turnkey spacer cable services can lower costs on substation exits and under/over builds, as well as long spans or ecologically sensitive areas. "Hendrix's equipment, techniques and on-site expertise make the install quick and cost effective," said Bob Biddle, field engineering manager at Hendrix. "Compressed project timelines with quick turnarounds save time on site reviews, designs, engineering and construction."

Turnkey spacer cable services also saves on maintenance, with an estimated 90 percent reduction in outages. "Spacer cable systems give utilities overhead ease with underground reliability." Hendrix offers an extended warranty on its turnkey projects, guaranteeing superior circuit performance.

Hendrix provides complete project management services, including evaluation of alternatives, quotation management, scheduling and cost control. Site evaluation services include job layout/pole placement, as well as line and profile drawings.

The Hendrix spacer cable solution is designed to Hendrix standards using genuine Hendrix cable and accessories. Design work includes pole evaluation, SAG and tension, guying, grounding and arrestor requirements, as well as construction drawings and bills of material. Construction services include material procurement, contractor training and supervision, quality control and installation. Rounding out the turnkey offerings are quality assurance services, including final inspection and provision of as-built drawings.

Spacer cable has been used by utilities for many years to improve the reliability and power quality of primary distribution systems while making them more resistant to storm damage. The compact configuration and reduced clearance requirements allow for multiple circuits to be installed on a single pole, thus combating right of way problems and saving money by reducing the number of poles required. Over or under building Spacer cable systems in substation exits, alleyways, and feeder circuits can greatly reduce the cost of adding capacity.