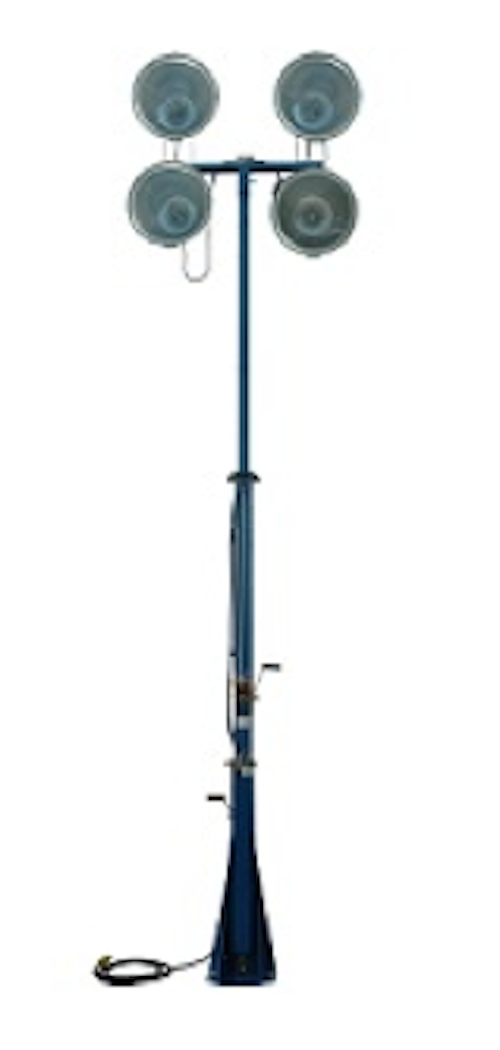 Safety lighting: Industrial lighting specialists Larson Electronics have announced the release of a 20-ft. telescoping light mast equipped with four 1,000-watt metal halide lamps. The LM-20-4X1000W is a fold over light mast that provides a safe and effective way for operators to quickly deploy 4000 watts of intense lighting to elevations up to 20 feet.
It features four 1,000 watt metal halide lamps, a rotating boom that allows for 360° of rotation, and an easy fold over assembly for transportation purposes. This light boom can be extended to a height of 20 ft. for effective coverage and collapsed to 12 feet. The mast is elevated from its folding position with a 1,000-lb. hand winch that is fitted with 3/16-in. cable. A second 1,000-lb. winch provides the 12 to 20 ft. elevation of the mast. The 360 degree rotation is provided by a single T-Handle. By loosening the T-Handle, operators can rotate the mast with ease in either direction. It can be locked into place once the desired position is found by tightening the T-Handle.
This light mast includes four wet area suitable metal halide fixtures that produce a combined total of approximately 400,000 lumens at 4,000 watts. The lamps have 19 in. reflectors and are constructed of aluminum with a clear tempered glass lens that is secured into place with a heavy duty gasket and single ring lock. These floodlights produce a wide flood light pattern capable of illuminating approximately 5 acres. These light masts are typically mounted to trailers or other stable surfaces by a 15 in. by 13 in., 1/4 in. thick mounting base plate that has been predrilled to accept six 3/4 in. anchor bolts. A 36 in. wide and 1/4 in. thick mounting plate is attached to the upper section of the mast which provides a strong and stable platform for the four metal halide lights. When lowered to 12 ft., the mast can withstand winds up to 125 miles per hour. The light tower weighs approximately 325 lbs. and can easily support and lift 150 lbs. of weight.
For more information about Larson Electronics or other products, click here to go to Utility Products' Buyers Guide.