Safety lighting: Temporary Manhole Mount Light Fixture
Work light: Larson Electronics introduces Temporary Manhole Mount explosion proof LED fixture.
Jan 23rd, 2014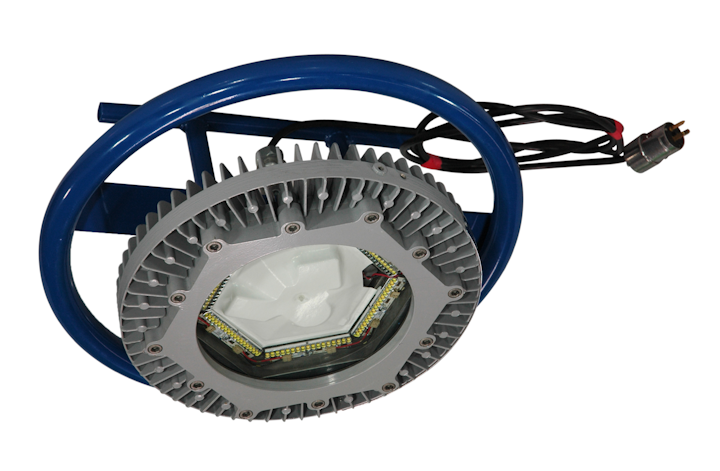 Utility equipment: The Larson Electronics MMLP-1MLED 150 watt Temporary Manhole Mount Light Fixture provides operators with a powerful and highly convenient alternative to traditional string or tank lights. LED technology, an innovative 21 in. man-way support bracket and compact design makes this lamp an excellent lighting solution for operators working within storage tanks, railcars, and other locations where entry is through a 21 in. man-hole opening.
This Class 1 Division 1&2 Class 2 Division 1&2 explosion proof light fixture provides 10,000 lumens of high quality light while drawing only 150 watts. This 16 inch diameter LED light is attached to a 21 inch supporting plate which allows the light fixture to hang inside the tank or railcar while the supporting plate rests on the lip of a man-way opening. This mounting system provides an extremely versatile lighting solution for those working in confined spaces such as rail cars, storage tanks, ship tanks, and the like where entry is through a 21 in. man-way opening.
The copper free aluminum alloy body is powder coated for added durability and an attractive aesthetic appearance. A special heat dissipating design in conjunction with advanced LED technology helps this fixture to achieve a 60,000 hour rated lifespan with 80% lumen retention. This light is multi-voltage capable and can be operated with 100-277 VAC without any need for a special ballast. The aluminum body and LED lamp gives this light excellent durability and resistance to vibration and impacts.
"This light was constructed with a temporary lighting solution in mind for those tasks that do not require a permanently mounted light and I believe it is the best solution," Rob Bresnahan with Larsonelectronics.com said. "The mounting system is extremely versatile for those working in a confined space such as rail cars or storage tanks and it operates on any voltage range from 100-277 volts AC."
For more information about Larson Electronics or other products, click here to go to Utility Products' Buyers Guide.