Utility safety: Best practices for safe machine operation
Construction equipment: AEM Log Skidder Safety Manual revised for industry best practices. Association's Forestry Equipment Council provides guidance.
Nov 19th, 2014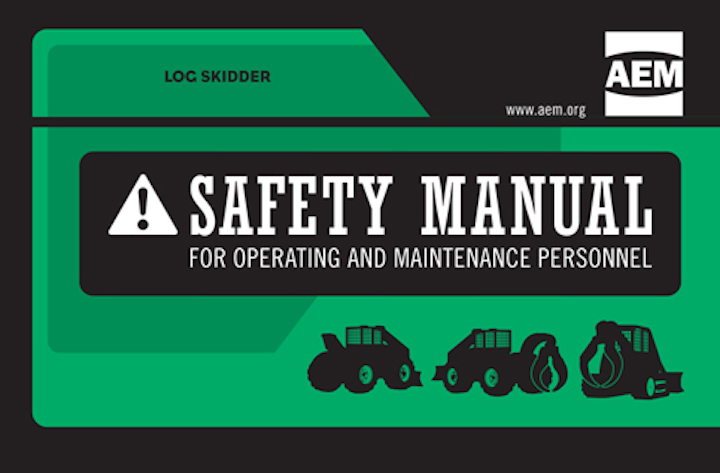 Safety equipment: The Association of Equipment Manufacturers (AEM) Log Skidder Safety Manual has been updated with content provided and reviewed by manufacturer members of the Association's Forestry Equipment Council (FoEC) to ensure it provides end-users with the latest industry-consensus best practices for safe machine operation.
AEM safety manuals are industry-consensus safety documents written in clear language presented in an easy-to-follow format. They are a convenient and cost-effective way to provide safety information to operators. (The AEM safety manuals are not a substitute for manufacturer manuals.)
Clearly illustrated with new pictorials, the AEM log skidder manual describes preparing for safe equipment operation, safe operation guidelines, and important equipment maintenance.
Key revisions include:
• Added information on grapple skidding as well as cable skidding
• Increased focus on common hazards, such as back overs and falls
• Inclusion of new safety devices available for log skidders
"The AEM equipment manuals are valuable companion documents used in conjunction with our Operation and Maintenance Manuals," stated Chuck Crowell, a member of the FoEC and international standards & regulations technical steward at Caterpillar Inc. "They reinforce safety messages in a slightly different presentation style to provide operators information on safe practices to use when operating and maintaining machinery; it is an example of industry working together to enhance safety on our machinery."
All AEM safety manuals, videos, and related safety and training products are available online through the AEM Store (http://shop.aem.org). AEM safety materials offer a high-value, economical way to deliver safety messaging. Some safety materials are available in downloadable files or in DVD format. AEM members receive discounts on select materials.
For more information about AEM or other products, click here to go to Utility Products' Buyers Guide.