Utility safety: Signal transmission solutions for mission-critical applications
Safety products: Belden's multi-port industrial firewalls gain added flexibility and security. Hirschmann EAGLE20/30 now offers SHDSL interface for additional data transmission options.
Sep 16th, 2014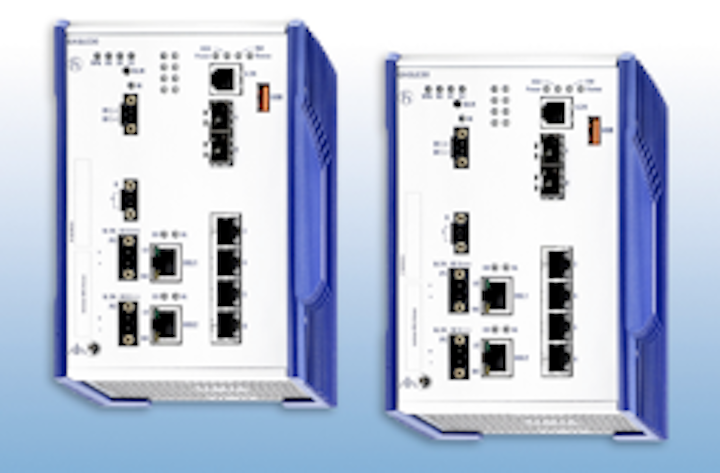 Safety equipment: Belden Inc., a provider of signal transmission solutions for mission-critical applications, has updated its Hirschmann multi-port firewalls – the EAGLE20-0400 and EAGLE30-0402 – to offer additional flexibility of deployment, as well as state-of-the-art security functionality. With new router redundancy and wide area network (WAN) interface, the EAGLE family helps achieve maximum network availability and security in any industrial setting.
Through the newest enhancement – support for symmetrical high-speed digital subscriber line (SHDSL) connections – customers can now transmit network control and monitoring data over traditional copper telephone lines, in addition to Ethernet cabling.
"These devices are highly-scalable and they're built-to-order from the factory, so our customers can select the various combination of ports they need to meet their network's requirements," said Product Manager Vinod Rana. "There are up to eight ports available, and you can select from Fast Ethernet, gigabit, and now, SHDSL ports."
To support the enhancements on the EAGLE20-0400 and EAGLE30-0402, Belden has also introduced the next version of its operating software: the Hirschmann Security Operating System (HiSecOS) Version 1.2. This newest version of software heightens network performance and adds more robust security features for the EAGLE firewalls. Among other features, it now offers:
• Additional router redundancy protocols, specifically virtual router redundancy protocol (VRRP).
• Support for up to two SHDSL interfaces.
• Enhanced security, including intrusion protection and access control list (ACL)-based counters and filters.
• Small form-factor pluggable (SFP) support for gigabit twisted pair cables.
Due to its robust design and hardened casings, the Hirschmann EAGLE20/30 is able to operate in any industrial setting, particularly in the automotive sector. Their extended operating temperature range also makes them relevant for the oil and gas, food and beverage, water and wastewater and transportation industries.
"The primary advantage of the EAGLE is the number and type of ports available – a total of eight possible ports per device," adds Rana. "With the various port configuration options available, in some scenarios a single device can be deployed, which eliminates the need for multiple routers and significantly saves both space and costs."
An early innovator in industrial Ethernet, Belden knows Industrial IT and is delivering the next generation of industrial networking solutions. Its global brands – Hirschmann, GarrettCom and Tofino Security – are leading the way in the adoption of industrial Ethernet. With a purpose-built portfolio, Belden's wired, wireless and embedded products deliver the highest confidence of reliability, availability and security. In addition, excellent warranties and dedicated customer support minimize downtime, protect critical infrastructure and provide peace of mind.
About Belden
Belden Inc., a global leader in high quality, end-to-end signal transmission solutions, delivers a comprehensive product portfolio designed to meet the mission-critical network infrastructure needs of industrial, enterprise and broadcast markets. With innovative solutions targeted at reliable and secure transmission of rapidly growing amounts of data, audio and video needed for today's applications, Belden is at the center of the global transformation to a connected world. Founded in 1902, the company is headquartered in St. Louis and has manufacturing capabilities in North and South America, Europe and Asia.
For more information about Belden or other products, click here to go to Utility Products' Buyers Guide.