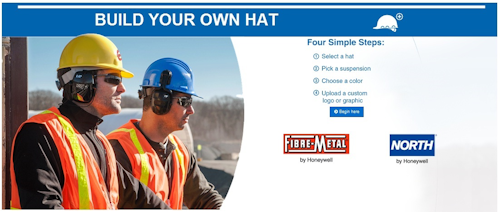 Lineman safety: Honeywell has launched Build Your Own Hat, a Web-based application that enables customers and distributors to fully customize hard hats from the complete selection of Fibre-Metal® and North® brand safety caps. In four easy steps, visitors can create their signature look by selecting a hat style, color, suspension and graphic. A dedicated Honeywell customer service team supports the application by answering questions, fulfilling orders and ensuring complete customer satisfaction. Build Your Own Hat offers a unique 360-degree, rotating product view as well as side-by-side comparisons of up to three custom caps to help safety managers make the best selections and meet every worker's needs.
"Today, hard hats on the jobsite are more critical than ever. Not only do they protect individuals' most valuable assets ­ their heads ­ but they also display company logos, designate trade expertise, illustrate personal interests and increase visibility," said Katie Twist-Rowlinson, product manager of Hard Hats and Welding Helmets for Honeywell Safety Products. "By offering customization options across our wide variety of industry-leading caps, hats and suspensions, employers can outfit individuals with head protection solutions that meet the exact requirements of their specific applications ­ and that support cultures of safety in every industry."
All styles of Fibre-Metal and North brand safety caps and hats are available for customization. Hard hat offerings span the full range of ANSI and CSA ratings for impact and electrical protection, with a bump cap also available. Build Your Own Hat offers a wide selection of suspension options, with hats that feature four-point, six-point and the industry¹s only eight-point suspension, Fibre-Metal SuperEight, which delivers unmatched comfort and protection. Users may also choose from best-in-class headgear options such as SwingStrap, TabLok and Quick Fit for quick, easy-to-use adjustability and all-day comfort.
Nineteen shell colors are available to suit a wide variety of corporate identities and personal preferences. Build Your Own Hat also allows users to choose from a range of stock safety slogans and graphics, or upload their own custom graphics and logos, for one-of-a-kind designs. With nearly limitless possibilities, Build Your Own Hat from Honeywell provides employers with the opportunity to outfit every worker with customized head protection that is ideal for every job.
For more information about Honeywell or other products, click here to go to Utility Products' Buyers Guide.