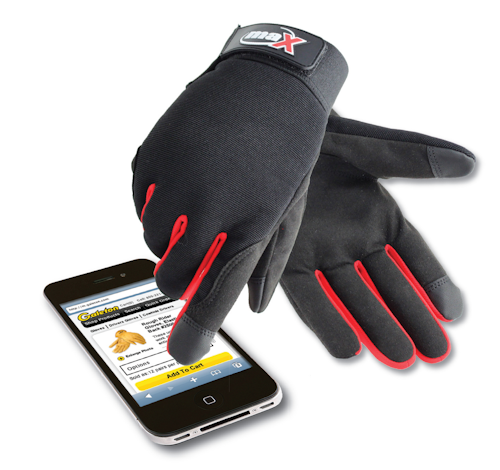 Safety gloves: Galeton, a supplier of fine quality gloves and work gear, has recently introduced #12031 Galeton maX Contact Touchscreen Mechanics Gloves. We've taken our popular maX 2.0 Gloves, added special touch sensitive tips and voila - maX Contact Touchscreen Gloves so you can keep your gloves on while operating smart phones and touchscreen equipment. Most touchscreen gloves only place touchscreen material on the front of the finger, which makes it difficult to use the tip of your finger. maX Contact goes a step further by having the special touchscreen material on both the front and back of the fingertip, to give you reliable touchscreen performance whether you use your finger pad or tip.
Since 1908, Galeton has been a leading supplier of fine quality gloves and work gear at great prices for manufacturing, commercial industry, construction, around its catalog, website, unique product line, and legendary customer service, the company continues to expand to meet the growing needs of its customers.

Not only does Galeton offer a wide variety of gloves ranging from premium quality to economy-line, but its 148 page catalog features a broad selection of exclusive brands and unique products. Their wide selection also includes high visibility work wear, rainwear, disposable apparel, coveralls, safety glasses, work boots, fall protection gear, coats, hard hats, respiratory, hearing and face protection, as well as other personal protection and safety equipment items ­ all designed to help keep the worker safe, comfortable and productive on the job.
For more information about Galeton or other products, click here to go to Utility Products' Buyers Guide.